MATTHEW 10:29
Are not two sparrows sold for a farthing? And one of them shall not fall on the ground without your Father.
All morning long I've been glancing out the window at the birds coming and going to get a morsel of the leftover bread I tossed in the yard. A tiny flock of ordinary little sparrows are gathered there right now. I'm not sure why I'm so fascinated with these little creatures; maybe it's because they remind me of me.
The food I tossed out didn't attract beautiful birds with bright colors and gorgeous markings–just the simple little sparrows and a few other ordinary birds. Being ordinary doesn't necessarily mean being insignificant. To the contrary, God often uses the ordinary in significant ways to accomplish His purposes.
The Bible is full of stories that bless, encourage, instruct and inspire us, and in nearly all of them there are some seemingly unimportant characters. Yet when you pause to look closely, these ordinary people were used by God in significant ways: Naaman's maid, Amos the uneducated farmer, simple shepherd's watching their flocks by night, the boy who gave his lunch to Christ. Some ordinary people God calls and then brings into the limelight, like Peter, James and John, uneducated fishermen called by Christ to be His Apostles. Others remain in their ordinary stations all their lives and seem to go unnoticed.  Yet all of these are special because they were created by the Master Designer, and all were used by God right where they were. As Chuck Swindoll puts it, "No life is insignificant when God chooses to use it to teach His truth to others."

Loving Father, thank You for using little sparrows to remind me that although I may be ordinary, I'm not insignificant to You. Help me live with a deep sense of appreciation for the way You can use me right where I am each day.
By Ann Shorb
Copyright Ann Shorb, 2009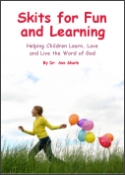 Skits for Fun and Learning
Skits for Fun and Learning is a collection of 15 puppet scripts and 5 articles on the subject of success with puppet ministries. The articles and scripts have been written by Dr. Ann Shorb and the book is available for purchase as a paperback, or as a PDF download.