PSALMS 37:23 (NKJV)
The steps of a good man are ordered by the Lord,
And He delights in his way.
I watch the little guy in my office playing with Legos and I notice how deliberately and carefully he places every block. There's a design in his mind, but I cannot see that. I must simply watch and wait as he places block after block, brick after brick in order according to the plan that he alone envisions. Slowly, over time, the structure takes shape, and his plan becomes clearer and much more obvious. Ah! Finally his structure is formed and I see the tall tower with the castle by its side. The young builder smiles as he looks at his work and then at me for he knows he has done well.
Daily I watch as my loving heavenly Father works in my life. Although I cannot see His plan, I watch and wait as He deliberately and carefully intertwines the people, opportunities, and experiences that come my way. Although I may not see or understand the way He works, His Holy Word reminds me that I can trust Him because He is God and He is good–all the time.
Proverbs 3:5-6 (NKJV)
Trust in the Lord with all your heart,
And lean not on your own understanding;
In all your ways acknowledge Him,
And He shall direct your paths.
Isaiah 30:21 (NKJV)
Your ears shall hear a word behind you, saying,
"This is the way, walk in it,"
Whenever you turn to the right hand
Or whenever you turn to the left.
Isaiah 42:16 (NKJV)
I will bring the blind by a way they did not know;
I will lead them in paths they have not known.
I will make darkness light before them,
And crooked places straight.
These things I will do for them,
And not forsake them.
Jeremiah 29:11 (NKJV)
For I know the thoughts that I think toward you, says the Lord,
thoughts of peace and not of evil,
to give you a future and a hope.
II Timothy 1:9
GOD has saved us and called us with a holy calling, not according to our works, but according to His own purpose and grace which was given to us in Christ Jesus before time began,
These words give reassurance as His plan unfolds and I become aware of where He is leading. Ah! Finally I understand and I feel the warmth of His smile as The Master Builder delights in His work. As always, He has done well.
Prayer: Beloved Father, help me to trust You when the plan before me isn't obvious and my understanding is limited.
Words to Ponder: "When you don't understand, when you don't see His plan, when you can't trace His hand, trust His heart."
–Babbie Mason
By Ann Shorb
©Copyright, Ann Shorb, 2013
Scripture taken from the New King James Version. Copyright © 1982 by Thomas Nelson, Inc.  Used by permission.  All rights reserved.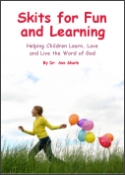 Skits for Fun and Learning
Skits for Fun and Learning is a collection of 15 puppet scripts and 5 articles on the subject of success with puppet ministries. The articles and scripts have been written by Dr. Ann Shorb and the book is available for purchase as a paperback, or as a PDF download.