JEREMIAH 29:11 (NKJV)
For I know the thoughts that I think toward you, says the Lord, thoughts of peace and not of evil, to give you a future and a hope.
The Encarta Dictionary defines an equinox as "either of the two annual crossings of the equator by the Sun, once in each direction, when the length of day and night are approximately equal everywhere on Earth. The equinoxes occur around March 21 and September 23."
The September equinox is just around the corner, and it marks the beginning of the fall season. It is, to us, a turning point from which the daylight hours grow shorter and the darkness grows longer. For many people, this is a depressing point in time each year because it means we are headed into the darkness and dreariness of winter.
While the equinox refers to physical darkness, there's no doubt about the fact that we live in a time when spiritual and moral darkness is increasing. There is trouble on every hand and focusing on that can lead us to feelings of despair and distress that can be overwhelming. As believers in Christ, however, we can look for the dawn, the return of our Savior and King, and in that we can be renewed and refreshed. Our future is secure in Him.
But not only does the Lord Jesus Christ know our future, we have the promise of His presence as we walk through every trial, trouble, and tribulation we face today. It amazes me that the very same all-sufficient, almighty God we read about in the Bible, the One who said to Moses, "My presence will be with you," says the same thing to us. His ever-abiding Spirit is here to give wisdom, hope, peace, direction—all that we need in every circumstance. Now that brings peace and hope for every situation!
PRAYER: Lord Jesus, it's a great comfort to know that in whatever time and season I find myself, You are always here with me. Thank You for the gift and the assurance of Your presence.
WORDS TO PONDER:
"The will of God will never take you,
Where the grace of God cannot keep you,
Where the arms of God cannot support you,
Where the riches of God cannot supply your needs,
Where the power of God cannot endow you."
–Rebekah Nolt, "The Will of God"
Related Devotionals:
1/5/13      – Facing Tomorrow Without Fear, Part 1 – 2 Timothy 1:7
1/12/13    – Facing Tomorrow Without Fear, Part 2 – Isaiah 26:3
1/19/13    – Facing Tomorrow Without Fear, Part 3 – Psalms 9:9-10
1/26/13    – Facing Tomorrow Without Fear, Part 4 – Psalm 37:23
2/2/13      – Facing Tomorrow Without Fear, Part 5 – Psalm 56:3
By Ann Shorb
©Copyright Ann Shorb, 2015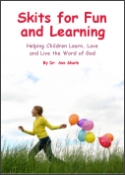 Skits for Fun and Learning
Skits for Fun and Learning is a collection of 15 puppet scripts and 5 articles on the subject of success with puppet ministries. The articles and scripts have been written by Dr. Ann Shorb and the book is available for purchase as a paperback, or as a PDF download.