JOHN 6:63 (NKJV)
It is the Spirit who gives life . . .
As we consider the question, "Who is the Holy Spirit?" we see through Scripture that He is the Comforter whom the Lord Jesus Christ promised to send to abide with His followers. In addition, we discover that the Holy Spirit truly is a person because He does the things only a person can do, and because Christ spoke of this Him as a person; however, I believe the most unique factor about the Holy Spirit is that He is also the third person of the Holy Trinity. He is God.
In the Bible, the Holy Spirit is called God, and we see that He is one with and equal to God the Father and God the Son. He has the attributes of God—He is eternal, omnipotent (all powerful), omniscient (all knowing), and omnipresent (everywhere present), and He is holy.
This amazing Spirit does the things that only God can do such as creating, inspiring the writers of the Holy Scriptures, and distributing spiritual gifts to all believers. He gives life and He raises people from the dead.
In the life of Christ, we see that He:
was conceived by the Holy Spirit (Luke1:35).
was anointed with the Holy Spirit, (Acts 10:38)
received the Spirit without measure (John 3:34)
taught in the power of the Spirit (John 6:63)
was enabled to die by the Spirit (Heb. 9:14)
was raised from the dead by the Spirit (I Pet. 3:18)
Our God is so amazing and so unique! Unlike all other gods, He is a living God. And He is three persons in one, God the Father, God the Son and God the Holy Spirit, who gives to us all we need for every need. Now that is comfort!
Prayer: Lord, I can't understand all there is about Your Holy Spirit and who He is. Your greatness is too wonderful for me!
By Ann Shorb
©Copyright, Ann Shorb, 2013
Scripture taken from the New King James Version. Copyright © 1982 by Thomas Nelson, Inc.  Used by permission.  All rights reserved.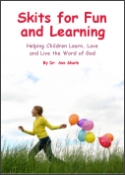 Skits for Fun and Learning
Skits for Fun and Learning is a collection of 15 puppet scripts and 5 articles on the subject of success with puppet ministries. The articles and scripts have been written by Dr. Ann Shorb and the book is available for purchase as a paperback, or as a PDF download.