PSALM 84:11 (NKJV)
For the LORD God is a sun and shield;
The LORD will give grace and glory;
No good thing will He withhold
From those who walk uprightly.
While flipping through the hymnal recently, I landed on an old hymn I hadn't heard in many years. As I read through the words I thought, "It's too bad that we don't sing this from time to time. The words have such deep meaning." Although it was written around 200 years ago, it's still beautiful. So today, my friends, I share it with you hoping that it will bless your heart as it has blessed mine.
Sun of My Soul
Sun of my soul, Thou Savior dear,
It is not night if Thou be near;
Oh, may no earthborn cloud arise
To hide Thee from Thy servant's eyes.
When the soft dews of kindly sleep
My wearied eyelids gently steep,
Be my last thought, how sweet to rest
Forever on my Savior's breast.
Abide with me from morn till eve,
For without Thee I cannot live;
Abide with me when night is nigh,
For without Thee I dare not die.
If some poor wand'ring child of Thine
Has spurned today the voice divine,
Now, Lord, the gracious work begin;
Let him no more lie down in sin.
Watch by the sick, enrich the poor
With blessings from Thy boundless store;
Be every mourner's sleep tonight,
Like infants' slumbers, pure and right.
Come near and bless us when we wake,
Ere through the world our way we take,
Till in the ocean of Thy love
We lose ourselves in Heav'n above.
–John Keble, 1792-1866
Gracious Savior, You warm my heart with the sunshine of Your love from morning till night. And even in the darkest hours of life, Lord, You illumine my heart with the light of Your presence. Truly You are the Sun of my soul.
By Ann Shorb
©Copyright 2011, Ann Shorb
Scripture taken from the New King James Version. Copyright © 1982 by Thomas Nelson, Inc.  Used by permission.  All rights reserved.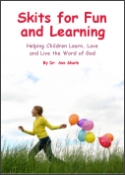 Skits for Fun and Learning
Skits for Fun and Learning is a collection of 15 puppet scripts and 5 articles on the subject of success with puppet ministries. The articles and scripts have been written by Dr. Ann Shorb and the book is available for purchase as a paperback, or as a PDF download.