PSALM 103:2
Bless the LORD, O my soul, and forget not all His benefits . . .who crowneth thee with lovingkindness and tender mercies . . .
It had been a particularly heavy day in our counseling office.  So many hurting people and so many needs were evident, not only among our counselees, but among our staff as well.  As I left that evening, I have to admit that I carried some of that heaviness with me, something I'm not supposed to do.
I climbed into my car, and when I started the engine, the CD in the player picked up where it left off when I arrived at work.  The tune was familiar, Great is Thy faithfulness! Great is Thy faithfulness!  Morning by morning new mercies I see; All I have needed Thy hand hath provided, Great is Thy faithfulness, Lord, unto me!
That gentle reminder of what I already knew came like a breath of fresh air and lifted my soul.  I thanked God for sending His message to me just when I needed it.  I was grateful for His faithfulness and confident of His provision for every need I had and every one had heard that day.  Having that song just ready to play for me at the end of a long day was a little thing, but I looked at it as God's gift to me and His provision of what I needed in that moment.
As we approach the Thanksgiving holiday here in the USA, I'd like to encourage you to look for the small blessings God sends to you every day.  It's easy to get caught up in the busyness of the daily routine and rush and fail to see the very simple, but satisfying blessings that surround us.  Thank your Heavenly Father for these gifts.  Praise Him for His faithfulness in meeting needs this way.  Let this Thanksgiving be a day of praising Him not only for the big things, but also the small ones.  After all, they truly are reminders of His loving kindness and tender mercy.
Thank You, Beloved Father, for demonstrating Your incredible love to me by sprinkling my life with small blessings each day.  Help me to recognize them and be reminded of Your faithfulness in every area of my life.
By Ann Shorb
©Copyright Ann Shorb, 2008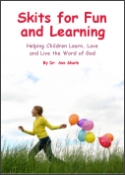 Skits for Fun and Learning
Skits for Fun and Learning is a collection of 15 puppet scripts and 5 articles on the subject of success with puppet ministries. The articles and scripts have been written by Dr. Ann Shorb and the book is available for purchase as a paperback, or as a PDF download.