This week's devotional was written by Cindi Wilmot, counselor, wife and mother of six.
ISAIAH 9:7 (NIV)
Of the increase of His government and peace there will be no end.  He will reign on David's throne and over his kingdom, establishing and upholding it with justice and righteousness from that time on and forever.  The zeal of the Lord Almighty will accomplish this.
Mommy, Mommy, we saw the most beautiful rainbow!  The girls tumbled into the house talking non-stop.  I looked out our eastern window, where afternoon rainbows can sometimes be seen after a storm, but there had been no rain.
We saw it down the road on the way home.  It was a perfect arc.  It went from one side of the road to the other!
I sighed, wishing I had seen the reminder of God's covenant with man.  It had been a rather depressing day, just following our hotly contested presidential election.  I had heard one too many stories of "gloom and doom" about things going on in our world today.  My heart longed for something positive.
The next morning as I stepped out of the grocery store into the lifting fog, I had my personal God-sighting.  I put my purchases into the car and rubbed my eyes just to be certain of what I had seen.  There it was.  Again, no rain, but again, a perfect arc of a rainbow . . . the most unusual rainbow I had ever seen.  Below it was lifting fog and above was clear blue sky.  The rainbow itself was fuzzy like the fog, but every color was there as if God simply took a handful of paintbrushes and made one quick stroke.
Thank you, God, for personal reminders that you are in complete control.  Thank you for the future coming of Jesus as the perfect King who will reign over all with complete justice and righteousness.
©Copyright Cindi Wilmot, 2008
*Scripture taken from The HOLY BIBLE, NEW INTERNATIONAL VERSION ®. Copyright © 1973, 1978, 1984 by the International Bible Society.  Used by permission of Zondervan.  All rights reserved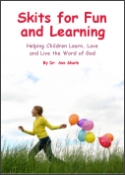 Skits for Fun and Learning
Skits for Fun and Learning is a collection of 15 puppet scripts and 5 articles on the subject of success with puppet ministries. The articles and scripts have been written by Dr. Ann Shorb and the book is available for purchase as a paperback, or as a PDF download.