MATTHEW 28:18 (KJV)
The Jesus came and spake unto them saying, "All power is given unto me in heaven and in earth."
Now that the days are warming up and the sun is shining, we're beginning to see a few kites in the air! That beautiful sign of spring time always reminds me of a story I told often when I was teaching children's Bible clubs.  It was called, "The Kite That Wanted to Be a Jet."  It was a cute little story about a kite that tried all sorts of ways to soar like a jet but never succeeded because he just didn't have the right source of power.
In some ways, I think we're all like that little kite sometimes.  The things we want to do seem bigger than the amount of power we have to accomplish them. Have you had one of those days recently where you've looked at your To-Do List and thought, "I don't think I have the power to do all this? Maybe you feel physically weak and weary. Perhaps there's a mental challenge in front of you that you don't feel adequate to handle. Or do you lack emotional strength to overcome that giant hurdle in front of you?  It doesn't matter if the challenge you face is physical, mental, emotional or even spiritual, God promises that He has the power to strengthen you. Just look at what the Bible says:
Isaiah 40:29 (NIV)–"He gives strength to the weary and increases the power of the weak."
Romans 8:26 (NIV)–"In the same way, the Spirit helps us in our weakness. We do not know what we ought to pray, but the Spirit Himself intercedes for us with groans that words cannot express."
II Corinthians 12:9-10 (NIV)–"But He said to me, 'My grace is sufficient for you, for my power is made perfect in weakness.' Therefore I will boast all the more gladly about my weaknesses, so that Christ's power may rest on me. That is why for Christ's sake I delight in weakness, in insults, in hardships, in persecutions, in difficulties.  For when I am weak, then I am strong."
Wow! That's amazing!  Whether it's a mental, physical, emotional or spiritual challenge face,  you can ask God for His power to see you through. The power to live, the power to grow, the power to do what He wants you to do and to be all that He wants you to be—it's all available to you. Just acknowledge your limitations and let Him go to work!
Almighty God, I've learned to be thankful for my weakness because it forces me to stop depending on myself and to rest in Your power.  Thank You for giving me Your strength.
By Ann Shorb
Copyright 2010
*Scripture taken from The HOLY BIBLE, NEW INTERNATIONAL VERSION ®. Copyright © 1973, 1978, 1984 by the International Bible Society.  Used by permission of Zondervan.  All rights reserved.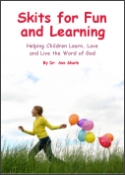 Skits for Fun and Learning
Skits for Fun and Learning is a collection of 15 puppet scripts and 5 articles on the subject of success with puppet ministries. The articles and scripts have been written by Dr. Ann Shorb and the book is available for purchase as a paperback, or as a PDF download.