PSALMS 33:13-15 (NKJV)
The LORD looks from heaven;
He sees all the sons of men.
From the place of His dwelling He looks
On all the inhabitants of the earth;
He fashions their hearts individually;
He considers all their works.
The air was cool and crisp as the ladies gathered for their annual retreat last weekend.  It was my joy to be among them. A few of them I knew quite well, some were only familiar faces, and others were at first total strangers to me. As we passed the hours studying God's Word, sharing in small groups, walking through the woods, and chatting at mealtimes, we opened our lives to each other and deepened our friendships.
This week as I pray for each one of those ladies, they are no longer just a list of names, but real people with real stories; yet, I've become keenly aware that while I know them, there so much about them that I don't know. I'm aware of how limited my knowledge is so I pray according to what I understand, and I am greatly comforted by the fact that God knows all the rest! Amazingly our omniscient God is aware of every detail of the life of each one of us. He knows all things actual and all things possible.
God knows every thought that you think, every word that you say—even before you say it, (Psalm 139:2-4).
God knows every secret sin that you carry, (Psalm 90:8).
God knows every need that you experience, (Matthew 6:8; 7:7; 21:22).
God knows every strength and weakness you possess, (I Corinthians 10:13).
God knows every event in your past, (I John 3:20).
God knows facet of your future, (Psalm 37:18).
GOD KNOWS!  Yes, God knows.
This fact that God is omniscient brings conviction to the sinner and comfort to the saint.    Just the thought of His incredible knowledge and wisdom is vastly beyond my ability to image!  No wonder David cried out in Psalm 139:6, "Such knowledge is too wonderful for me. It is high, I cannot attain unto it."

All-knowing God, Your perfect knowledge is more than I can understand, but it is such a comfort to know that You know all about each one of us. Thank You for understanding my prayers for others and for working in their lives.
©Copyright Ann Shorb, 2009
Scripture taken from the New King James Version. Copyright © 1982 by Thomas Nelson, Inc.  Used by permission.  All rights reserved.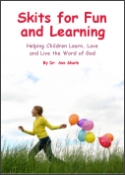 Skits for Fun and Learning
Skits for Fun and Learning is a collection of 15 puppet scripts and 5 articles on the subject of success with puppet ministries. The articles and scripts have been written by Dr. Ann Shorb and the book is available for purchase as a paperback, or as a PDF download.