JEREMIAH 23:23-24 (NKJV)
Am I a God near at hand," says the LORD,
"And not a God afar off?
Can anyone hide himself in secret places,
So I shall not see him?" says the LORD;
Do I not fill heaven and earth?" says the LORD.
Psalm 139:7-9 tells us that God fills every part of the universe. There is no place that we can go where God is not present. He is vast and immense. Our God is everywhere! He is totally and wholly present at every point in creation—in this universe and beyond—at every given moment. What an incredible and incomprehensible thought!
In contrast, we read in Colossians 1:17 that God is present in every minute particle of matter. He is present in every tiny grain of sand, every particle of dust, and even the most microscopic element for it is He who holds it all together. Big or small it was all created by Him and His is separate and distinct from it all.
Trying to comprehend how God can be everywhere present at the same moment is far beyond human understanding because we are limited to time and space. Although my mind cannot begin to comprehend it, His Word and my experience tell me that He is always near. Any time I call on Him, He hears my cry—and He does the same for each of His children. Someone once said, "When thousands of Christians are praying privately around the world at the same time, each one can be sure that he is receiving God's undivided attention."
At times when you feel alone, be assured that God is there. He stands beside you; He sees and knows all that you are going through. You are not alone. You are not forsaken. God is there. Let that be your courage, comfort and joy.
Omnipresent God, You amaze me! Thank You for the security of knowing that You are always by my side no matter when or where I am. Truly I can say with the Psalmist, "You will show me the path of life; In Your presence is fullness of joy; At Your right hand are pleasures forevermore."
By Ann Shorb
©Copyright Ann Shorb, 2009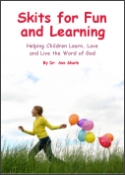 Skits for Fun and Learning
Skits for Fun and Learning is a collection of 15 puppet scripts and 5 articles on the subject of success with puppet ministries. The articles and scripts have been written by Dr. Ann Shorb and the book is available for purchase as a paperback, or as a PDF download.