REVELATION 19:6-7 (NKJV)
And I heard, as it were, a great voice of a multitude . . . saying, "Alleluia! For the Lord God Omnipotent reigns! Let us be glad and rejoice and give Him glory . . ."
"Omnipotent" is one of those big words that has an easy-to-understand meaning.  In the Greek language (the primary language of the New Testament) it simply means "to have all strength or all power." To say that our God is omnipotent means that He is all-powerful. He can do anything! One scholar puts it this way, "God is able to do whatever He wills to do." While we read of this greatness in His powerful Word, we actually see it demonstrated all around us.
Creation shows God's infinite power (Romans 1:20). He created the universe from nothing simply by speaking His word (Genesis 1:3), and there is nothing created that He did not create (Colossians 1:16). The beauty of the changing seasons, the majesty of the vast oceans and towering mountains, and all of the incredibly complex living species—He made them all.
Christ the Son of God demonstrated God's infinite power. His miraculous birth (Luke 1:26-37), His sinless life on earth (Hebrews 7:22-26), His death, burial and amazing resurrection (John 19-21) all shout of God's unlimited power to do the impossible. And at His second coming Christ will display again God's might in ways that are now beyond our comprehension (Matthew 24:30; I Thessalonians 4:13-18)!
Christians who are walking with the Lord display His infinite power. There is no greater testimony to the power of God than a changed life that finds new purpose, attitudes and behaviors. Truly this is what Jesus referred to in John 13:34-35 when He said, "By this all will know that you are My disciples, if you have love for one another." Only Christ can heal the hurts and change the hearts of mankind. No other power on earth can do that.
Yet I'm sure you've heard that there are three things God cannot do: He cannot lie, He cannot sin, and He cannot deny Himself. In actuality these things are not a limitation of His power, but of His will. God chooses not to lie, to sin or to deny Himself because these are not consistent with His nature and His will. Therefore, He demonstrates a totally free will that does only what He desires to do. Now that is power! None of the rest of us can do that with good results because of our sinful nature and our distorted, selfish perspectives.
Yes, God has the power to create, to save, to heal, to redeem and restore, to provide, to lead, to direct, to comfort—the list could go on and on because He can do anything He wills to do!  He is not limited by time or space, nor by the lack of finances, resources, knowledge or physical ability. Indeed He is omnipotent and He is good!
Almighty God, I am totally overwhelmed as I meditate on Your power and might, and the thought that You use all of that strength unselfishly for good.
By Ann Shorb
©Copyright Ann Shorb, 2009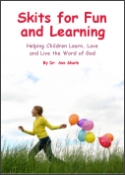 Skits for Fun and Learning
Skits for Fun and Learning is a collection of 15 puppet scripts and 5 articles on the subject of success with puppet ministries. The articles and scripts have been written by Dr. Ann Shorb and the book is available for purchase as a paperback, or as a PDF download.