PROVERBS 21:1
The king's heart is in the hand of the LORD, as the rivers of water: He turneth it whithersoever He will.
The 2008 United States presidential election is over!  After two years of intense preparation, planning and publicizing the race between John McCain and Barack Obama is done.  As with any election, there are those who rejoice with the outcome of the vote, looking forward to the fulfillment of promises made and a bright future; and there are others who mourn, fearing the loss of their dreams, ideals and convictions.  Regardless of the outcome of this election or any other, there are certain undeniable truths for us all.
God is still on the throne.
Jesus still saves and keeps.
The Holy Spirit's power has not been diminished one bit.
And the promises of God's Word are still true and secure.
No matter who our leaders are, you and I have responsibility to pray for them regularly. There are numerous Christians in politics.  Find those who represent you locally or on a state or federal level and remember them especially.  Contact them (they all have websites) and let them know of your continued prayers as they carry out their political duties day by day.  Pray for them to live lives of integrity and not give in to temptations. I've already e-mailed my local representative to let him know that I'm committing to pray for him daily.
Truly we can only rejoice as we see our leaders following godly principles and we will only mourn when we take our focus off of God's sovereignty.  Join me in praising God for His greatness and His sovereignty and in praying, "God, bless America."
Sovereign God, help me to keep my focus on You and Your promises, and to remember my responsibility to pray for those in authority over me.
By Ann Shorb
©Copyright Ann Shorb, 2008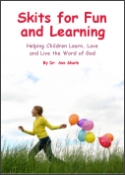 Skits for Fun and Learning
Skits for Fun and Learning is a collection of 15 puppet scripts and 5 articles on the subject of success with puppet ministries. The articles and scripts have been written by Dr. Ann Shorb and the book is available for purchase as a paperback, or as a PDF download.