PSALM 23:1 (KJV)
The Lord is my shepherd, I shall not want.
Frigid temperatures and strong winds across the Northeast have kept us in an icebox for more than a week. It has been a rough couple of months, but even in these conditions, God still provides our every need, and demonstrates His faithfulness. We see it in big ways, and in small ones . . .
As he unpacked the box of medical supplies that had just arrived at his home, the disabled man said, "Why did they send us this box of vinyl gloves? We don't need them."
"Well, don't throw them out. You never know when they might come in handy," his wife replied. And she took the box of gloves and placed them in the bathroom closet.
Moments later, the quietness of their home turned into panic as she discovered a stream of water flowing from their guest bathroom. "Eek! Where is this coming from?" she exclaimed.
It didn't take long to discover that frozen pipes were the cause of the mess, and that it went beyond the bathroom. She scurried around taking care of things the best she could. Shutting off the main valve for the house stopped the flow of water, but still the mess had to be mopped up.
"I wish I had some gloves to protect my hands from all this water," she said out loud. And then she laughed as she recalled what had just taken place a few minutes before.
"He knew all along!" she said. "The Lord just sent us a whole box of gloves that will work in this situation!"
The lady retrieved a pair of vinyl gloves from the bathroom closet, placed them on her hands, and started mopping.
Yes, their Heavenly Father knew all along what they would need, and He gave it to them at just the right time. Amazing, isn't it, that the God of the whole universe cares about and meets our every need. David was right when He penned the words, "The Lord is my shepherd. I shall not want."
Prayer: You're a wonderful, faithful provider and shepherd, Lord. Indeed, You know our every need, even before it comes to our attention. How grateful we are to have You always watching over us.
Words to Ponder:
"God will take care of you, through every day, o'er all the way;
He will take care of you, God will take care of you."
–Civilla D. Martin, Hymn writer, "God Will Take Care of You"
By Ann Shorb
©Copyright, Ann Shorb, 2015
Scripture taken from the New King James Version. Copyright © 1982 by Thomas Nelson, Inc.  Used by permission.  All rights reserved.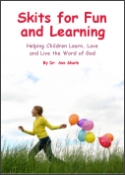 Skits for Fun and Learning
Skits for Fun and Learning is a collection of 15 puppet scripts and 5 articles on the subject of success with puppet ministries. The articles and scripts have been written by Dr. Ann Shorb and the book is available for purchase as a paperback, or as a PDF download.