ISAIAH 45:18
For this is what the LORD says— he who created the heavens, he is God; he who fashioned and made the earth, he founded it; he did not create it to be empty, but formed it to be inhabited— he says: "I am the LORD, and there is no other. (New International Version)
Written by Heather Anne Kehr
In October, my husband & I celebrate the 12th anniversary of our marriage.  As that date approaches, I'm reminded of our wedding as a beautiful start to our marriage.  We were excited to share our special day with friends and family as well as enjoy all the details of the ceremony that we had been planning for months in advance.  It was with great joy that we departed for our honeymoon.  Our destination was Arizona.
As we traveled to Arizona, I was amazed at the variety of landscape within our country.  We saw everything from snowy mountains to flat prairies.  During our week stay in Flagstaff, we were able to visit the Grand Canyon, Sedona and other scenic places.  If you ever visit the Grand Canyon, you will find that it literally takes your breath away with its beauty.  We spent several days taking in the sites and traveling the entire length of the southern rim.  Every time a new visitor caught a glimpse of the canyon, you could hear him/her gasp with amazement at the beauty and magnitude of this natural wonder.
It was easy to see God's creativity was on display as we looked at the green vegetation on the arid Arizona soil, colorful rock formations, the wild Colorado River rushing down below, birds soaring high above the ground, and as we watched sunsets that displayed colors that are indescribable by words.  I began to think about how wonderful our God is to create such beauty in His world.  We can see that He delights in His creation and in showing us His ability to create such beauty.
Heavenly Father, I pray that our hearts would be in awe of Your creativity and filled with praise for you.  May our eyes see Your creation and our hearts be filled with worship for You, Our Creator & Sustainer.
By Heather Anne Kehr
© Copyright Heather Anne Kehr, 2009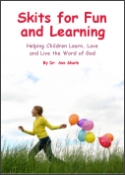 Skits for Fun and Learning
Skits for Fun and Learning is a collection of 15 puppet scripts and 5 articles on the subject of success with puppet ministries. The articles and scripts have been written by Dr. Ann Shorb and the book is available for purchase as a paperback, or as a PDF download.