JOHN 14:16-17 (NKJV)
And I will pray the Father, and He will give you another Helper, that He may abide with you forever—the Spirit of truth, whom the world cannot receive, because it neither sees Him nor knows Him; but you know Him, for He dwells with you and will be in you.
Every once in a while, one of my clients will turn to me and ask, "Who do you, the counselor, talk to when you have problems?" I usually laugh and say that I have some very dear friends who are both confidants and counselors to me—and yes, I do have a counselor that I call, if I need to." After all, if I say I believe in the benefits of counseling, I need to practice what I preach, don't I?
I'm so thankful for those precious folks God has placed in my life to help me along my own personal journey, but ultimately, He has given each believer his/her own personal Counselor, the Holy Spirit, who leads us through that still small voice in prayer, through His Word, the counsel of other mature believers, our circumstances, and the peace that comes as we follow Him. Always He will lead us, if we let Him.
At the end of my work day, I turn the OPEN sign to CLOSED. Counseling hours are over and I go home, but the Counselor from above is indwelling, always on duty, always awake, and always ready to guide us in every situation we face. Isn't that exciting? And the fee for His services was already paid by the death, burial, and resurrection of the Lord Jesus Christ–an expensive sacrifice that our human minds will never fully comprehend.
So what can keep us from turning to Him for direction and guidance? Pride, busyness, distractions, ungodly desires, and our own stubborn will. Let's face it, sometimes we just don't want to hear what the Holy Spirit says because it's contrary to our own desires, but if we know what's good for us, we'll seek His wisdom, guidance, and direction, not our own. His ways are good, His will is perfect.
Prayer: Heavenly Father, how wonderful it is to have my own personal Counselor always by my side to point me in the right direction. Help me to hear and heed His voice always.
Words to Ponder:
Holy Spirit, faithful Guide,
Ever near the Christian's side;
Gently lead us by the hand,
Pilgrims in a desert land,
Weary souls fore'er rejoice,
While they hear that sweetest voice,
Whispering softly, "Wanderer, come!
Follow Me, I'll guide thee home."
–Marcus M. Wells, "Holy Spirit, Faithful Guide" (Hymn)
Related Devotionals:
By Ann Shorb
©Copyright, Ann Shorb, 2015
Scripture taken from the New King James Version. Copyright © 1982 by Thomas Nelson, Inc.  Used by permission.  All rights reserved.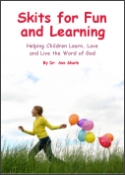 Skits for Fun and Learning
Skits for Fun and Learning is a collection of 15 puppet scripts and 5 articles on the subject of success with puppet ministries. The articles and scripts have been written by Dr. Ann Shorb and the book is available for purchase as a paperback, or as a PDF download.