GALATIANS 5:22-23 (NKJV)
But the fruit of the Spirit is love, joy, peace, longsuffering, kindness, goodness, faithfulness, gentleness, self-control. Against such there is no law.
God calls us to be holy, to be set apart from worldliness unto righteousness (I Peter 1: 15-16). That sounds unattainable for us with our fleshly weaknesses and deceitful hearts (Jeremiah 17:9), doesn't it? But God would never command us to do something that's impossible. Instead He provides the solution for our dilemma by giving to every believer His indwelling Holy Spirit as a personal Counselor who guides, energizes, and enables us to accomplish His will for our lives.
That's a wonderful gift! But, we must never expect the Spirit to do all the work. In THE DISCIPLINES OF GRACE, author Jerry Bridges puts it this way:
"There are instances in the Old Testament where God miraculously intervened and actually fought the battle for Israel (such as 2 Chronicles 20). But these are the exception, not the rule. However—and this is an important statement—there is not a single instance in New Testament teaching on holiness where we are taught to depend on the Holy Spirit without a corresponding exercise of discipline on our part."
Our part is first to understand that holiness is not something mystical and unattainable. It's being set apart from worldliness unto right living by knowing Christ through His Word, and following His commands. You see, it's about doing the next right thing.
As moment by moment we surrender our fleshly desires and obey God's direction, His Spirit produces in us the godly characteristics of love, joy, peace, longsuffering, kindness, goodness, faithfulness, gentleness, and self-control. Even though Satan battles us, it becomes easier to continually make right choices and do that next right thing.
Thankfully, we serve a reasonable God who never commands us to do something that cannot be done. He is faithful to do His part, but the question is, are we doing ours?
PRAYER: Beloved Father, thank You for the partnership of Your Holy Spirit that does for us what we cannot do for ourselves. Help us to surrender ourselves moment by moment so that we may accomplish Your will for our lives. 
WORDS TO PONDER: "If we live in the Spirit, let us also walk in the Spirit."
–The Apostle Paul, Galatians 5:25
RELATED DEVOTIONAL: Our Counselor 
By Ann Shorb
©Copyright, Ann Shorb, 2015
Scripture taken from the New King James Version. Copyright © 1982 by Thomas Nelson, Inc.  Used by permission.  All rights reserved.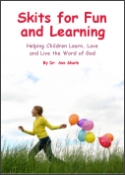 Skits for Fun and Learning
Skits for Fun and Learning is a collection of 15 puppet scripts and 5 articles on the subject of success with puppet ministries. The articles and scripts have been written by Dr. Ann Shorb and the book is available for purchase as a paperback, or as a PDF download.