PSALM 23:1 (NKJV)
The LORD is my Shepherd; I shall not want.

2 CORINTHIANS 3:5 (NKJV)
Not that we are sufficient of ourselves to think of anything as being from ourselves, but our sufficiency is from God.
Keenly aware of my physical weaknesses and limitations—and the fact that I'm growing older much more rapidly than I'd like—each morning I open the cupboard and reach for an assortment of nutritional supplements to help provide what my body needs. Each formula has something that I need, but no one source is enough to provide all that I need.
How thankful I am that in my relationship with the living God, I can truly say that He alone is enough for my every need. I never have to ask, "Is He enough?"
His death on the cross is sufficient for my salvation.
Therefore He is also able to save to the uttermost those who come to God through Him, since He always lives to make intercession for them, (Hebrews 7:25, NKJV).
His strength is sufficient to overcome my weakness.
Come to Me, all you who labor and are heavy laden, and I will give you rest, (Matthew 11:28, NKJV).
His authority is sufficient to overcome my inadequacy.
And Jesus came and spoke to them, saying, "All authority has been given to Me in heaven and on earth, (Matthew 28:18, NKJV).
His power is sufficient for any struggle I face.
Likewise the Spirit also helps in our weaknesses. For we do not know what we should pray for as we ought, but the Spirit Himself makes intercession for us with groanings which cannot be uttered, (Romans 8:26, NKJV).
His strength is sufficient to pick me up when I fall
The LORD upholds all who fall, And raises up all who are bowed down, (Psalm 145:14, NKJV).
His wisdom and knowledge are sufficient to direct my every step.
But He knows the way that I take; When He has tested me, I shall come forth as gold, (Job 23:10, NKJV).
His grace is sufficient for my every need.
And He said to me, "My grace is sufficient for you, for My strength is made perfect in weakness." Therefore most gladly I will rather boast in my infirmities, that the power of Christ may rest upon me. Therefore I take pleasure in infirmities, in reproaches, in needs, in persecutions, in distresses, for Christ's sake. For when I am weak, then I am strong, (2 Corinthians 12:9-10, NKJV).
The words of 19th century author Hannah Whitall Smith sum it up well:  "If God is what He would seem to be from his revealings; if He is indeed the "God of all comfort" (2 Cor.1:3); if He is our Shepherd; If He is really and truly our Father; if, in short, all the many aspects He has told us of His character and His ways are actually true, then we must come to the positive conviction that He is, in himself alone, enough for all our needs and that we may safely rest in Him absolutely and forever."
All-Sufficient God, truly You are all that I need for every need.  Let me rest each day in that knowledge.
©Copyright Ann Shorb, 2009
Scripture taken from the New King James Version. Copyright © 1982 by Thomas Nelson, Inc.  Used by permission.  All rights reserved.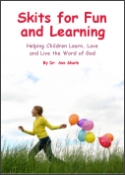 Skits for Fun and Learning
Skits for Fun and Learning is a collection of 15 puppet scripts and 5 articles on the subject of success with puppet ministries. The articles and scripts have been written by Dr. Ann Shorb and the book is available for purchase as a paperback, or as a PDF download.