PSALM 34:8-9 (NKJV)
Oh, taste and see that the Lord is good;
Blessed is the man who trusts in Him!
Oh, fear the Lord, you His saints!
There is no want to those who fear Him.
As a child, I memorized the first phrase of verse eight in my Sunday School class. Its simple, easy words make it perfect for even young children to comprehend and learn, provided someone explains to them what it means to "taste" the Lord. My teacher or my mother must have done that for me because I seemed to understand it meant to give Him a try and see how good He is.
While it has always been one of my favorite verses in Scripture, over the years these words have become more and more precious to me. I've seen that the answer to what it means actually lies in the words that follow, "Blessed is the man who trusts in Him."
I am convinced that the most important foundational plank in any relationship is trust–and here we see the results of trusting God as we walk with Him day by day. We trust, He shows His goodness, faithfulness, love, mercy, and strength. As we experience these blessings, we reverence (fear) and trust Him more. And every time you trust and God supplies, you have one more snapshot of His goodness and faithfulness, and one more reason to trust Him next time.
Over time, you learn that you never need to doubt Him, His will for your life, nor His ability to meet your every need. Truly He is the One who has all you need for every need, and you can trust Him to supply just the right thing, at just the right time, and in just the right way. What blessing! What contentment! What peace when we "taste and see that the LORD is good"!
Prayer: Precious Father, You are faithful and You are good. Please, when I allow circumstances or people to cloud my thinking and begin to doubt You, draw my mind back to the multitude of times that You have shown Yourself faithful to me. Thank You for the strength of Your promises and the truth of Your Word.
Words to Ponder: "It is the experience of trust that sets you free. When you trust God, everything about your life becomes more joyful and more manageable. A big load is lifted off your back."
–Neil Clark Warren, GOD SAID IT, DON'T SWEAT IT
By Ann Shorb
Copyright Ann Shorb, 2015
Scripture taken from the New King James Version. Copyright © 1982 by Thomas Nelson, Inc.  Used by permission.  All rights reserved.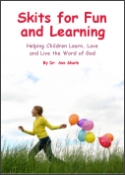 Skits for Fun and Learning
Skits for Fun and Learning is a collection of 15 puppet scripts and 5 articles on the subject of success with puppet ministries. The articles and scripts have been written by Dr. Ann Shorb and the book is available for purchase as a paperback, or as a PDF download.