PSALM 34:8-9 (NKJV)
O taste, and see that the LORD is good; blessed is the man who trusts in Him.
A new recipe sat on my counter and as I looked at it, I remembered my mother. She loved trying new recipes and finding culinary treats that pleased her family. I also remembered my reluctance to try some of her new concoctions!
"Taste it," she'd say enthusiastically. "It's good." And I would sometimes turn away to avoid what I thought might be something I wouldn't enjoy. Once I worked up the courage to put the fork to my mouth and actually experience it for myself, though, I'd usually find she was right. It really was good!
Once you've tried something and you know how good it is, it's hard to understand why other people don't like it, too. I guess that's why I find it so hard to understand why some people are hesitant to trust the Lord and experience being in a relationship with Him.
Some say they can't trust in someone they can't see. I've never actually seen Him either, but every day I see the evidence of His handiwork as the sun rises, and the earth blooms with beauty.
Others claim they can't believe in a God who would send people to Hell. They forget that He sent His own Son to die and pay the price for sin to make a way for us all to escape that eternal torment.
Then there are intellectuals who try to figure out the Almighty One, and when they can't come up with an explanation for His origin and mystique, they proclaim that a God of all power and wisdom could not exist. The problem is not that God is inconsistent or inadequate in any way, but that the human mind is incapable of understanding and comprehending His infinite greatness.
As for me, I know His exists and is loving and gracious. I've seen goodness and His kindness. I've felt His strength when mine was gone. I've seen Him supply needs in miraculous ways, and give blessings that were totally unexpected and undeserved. I've known conviction and disciple from His hand, and also the peace that comes from drawing near to a loving Father. Yes, when you open your heart and mind to Him, He is full of grace and truth–and very, very good.
PRAYER: Lord, I thank You that as we "taste" You just get sweeter and sweeter.
WORDS TO PONDER: "We cannot 'psychologize" the grace of God. God's actions are outside and about our human sciences."
–John Powell
By Ann Shorb
Copyright Ann Shorb, 2015
Scripture taken from the New King James Version. Copyright © 1982 by Thomas Nelson, Inc.  Used by permission.  All rights reserved.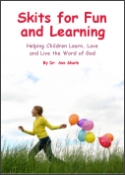 Skits for Fun and Learning
Skits for Fun and Learning is a collection of 15 puppet scripts and 5 articles on the subject of success with puppet ministries. The articles and scripts have been written by Dr. Ann Shorb and the book is available for purchase as a paperback, or as a PDF download.