PSALM 37:18 (NKJV)
The LORD knows the days of the upright,
And their inheritance shall be forever.
The last two weeks haven't gone as I planned! Several times I had to rethink, replan and reschedule and remove events that I previously neatly arranged in my Day-Timer. Other things of major importance came up unexpectedly and everything shifted. I had no idea things were going to unfold as they did–but they did. That's why I wasn't able to send out the devotional last week.
It's such a comfort to know that while I was totally unaware of things to come, My loving Heavenly Father was not at all surprised. He knew all along what I would face and the crises that would emerge. To God there are no surprises! And not only are there no surprises, there are no shortages. In every situation, He was there providing me with strength, flexibility, understanding, wisdom, supportive staff and friends, and all that I needed for every need.
I've learned to write my plans in pencil so they can be changed as needed each day. That doesn't scare me, because I know my Lord is the One who is really in charge of my schedule. He's the One writing the script of my life, and I am assured of three very comforting things:
1. He truly knows the way that I take (Job 23:10).
2. He will never leave me nor forsake me (Hebrews 13:5).
3. He will provide all I need for every need (Philippians 4:19; Psalm 23:1).
So why fret? "Your Father knows the things you have need of before you ask Him," (Matthew 6:8 NKJV). I trust Him! You can, too. He will not let you down. With God there are no surprises and no shortages.
Loving Father, I'm glad You are with me each hour of the day so that I am not alone and I don't have to fear the unknown, face the unthinkable, or fend for myself. Truly You are God and You are good.
By Ann Shorb
©Copyright 2011, Ann Shorb
Scripture taken from the New King James Version. Copyright © 1982 by Thomas Nelson, Inc.  Used by permission.  All rights reserved.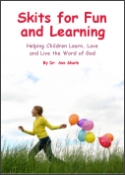 Skits for Fun and Learning
Skits for Fun and Learning is a collection of 15 puppet scripts and 5 articles on the subject of success with puppet ministries. The articles and scripts have been written by Dr. Ann Shorb and the book is available for purchase as a paperback, or as a PDF download.