PROVERB 3:5-6
Trust in the LORD with all thine heart; and lean not unto thine own understanding.  In all thy ways acknowledge Him, and He will direct thy paths.
We're getting ready for open house at our office!  As I walk from room to room making sure everything is in order and sprucing things up, my mind pulls up memory after memory of how it all came to be in the fall of 2001.
Everything concerning our move happened so quickly!  The office I had been renting was sold, so I had to move.  The purchase of another older building was immediately available and it all seemed so right, but still, there was a multitude of uncertainties in my mind.  I wondered, What about our declining economy?  What does the future hold since the tragedy of September 11 just a few weeks ago?  How long will I be unable to work after my upcoming facial reconstruction surgery? I wanted to make sure buying this property was right.  I prayed over and over, "Lord, if this isn't the right thing to do, please stop us."
My prayers continued for several days but we had to make a decision soon.  One morning after my devotions, I opened a card that a lady study stuck in my bag at Bible study two days before.  In the card she had written a quote from Corrie ten Boom, "Never be afraid to trust an unknown future to an all-knowing God." That was the confirmation I needed!  We signed the contract on the building that morning and got a call in the evening that it was accepted.  Settlement was tentatively set for three weeks later.  We took our step of faith trusting God to make it all work out.  And He did!
God knew all along that this is just the right place for us for now.  It's exciting to see Him provide us with a growing staff and what seems to be, unlimited opportunities for work and ministry.
If you are anywhere in our area, we invite you to join us this Saturday for our Open House and Bargain Book Sale.  Pastors, there's something special planned just for you on Friday the 25th!  For complete details see below.
What security to know, Father, that You have all things planned and under control.  Help me always to trust You and follow Your leading, especially in times of uncertainty.
By Ann Shorb
©Copyright, Ann Shorb, 2008
To read more about the incredible things God did in providing this building for CCES in 2001, read the devotional To God Be the Glory.
To see pictures of the building, please visit our photo gallery.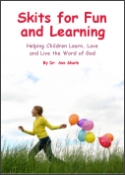 Skits for Fun and Learning
Skits for Fun and Learning is a collection of 15 puppet scripts and 5 articles on the subject of success with puppet ministries. The articles and scripts have been written by Dr. Ann Shorb and the book is available for purchase as a paperback, or as a PDF download.