PSALM 31:15 (NKJV)
My times are in Your hand.
Sometimes making decisions isn't easy! I examine the choices, look carefully at the pieces, weigh the options and the outcomes, and wonder, "Which way do I go?" "Should I wait or should I take the next step now?" Of course, the more options there are, the more confusing things can become, but it's a comfort to know that at any given moment, no matter where I am, no matter what my circumstances, My Heavenly Father sees and knows right where I am. This present moment is in His hand.
The LORD is my shepherd;
I shall not want
He makes me to lie down in green pastures;
He leads me beside the still waters.
He restores my soul;
He leads me in the paths of righteousness
For His name's sake.
–Psalm 23 (NKJV)
Not only does God know where I am right now, He knows how I got here. He knows all the good and all the bad that I experienced along the way. All the baggage, the hurt, the sorrow and frustrations that affect the way I think, feel, and act are known to Him. He understands and He provides all that I need for healing and comfort. My past rests in His hand.
The righteous cry out, and the LORD hears,
And delivers them out of all their troubles.
The LORD is near to those who have a broken heart,
And saves such as have a contrite spirit.
–Psalm 34:17-19 (NKJV)
Thankfully, God also knows my future and, as I look to Him, He directs my steps. My future is secure, my path is straight because it rests in His hand.
But He knows the way that I take;
When He has tested me, I shall come forth as gold.
–Job 23:10 (NKJV)
You see, it doesn't matter what time it is in my life, God always knows where I am. At any given moment I can say with certainty, "He knows where I am now, He knows where I've been, and He knows where I need to go."  Therefore, I can safely commit my way to Him knowing that He will direct my path if I lean on Him, (Proverbs 3:5-6).
God, You are so wise, so infinite in Your knowledge and understanding! Thank You that every moment of every day, my times are in Your hand.
By Ann Shorb
©Copyright Ann Shorb, 2011
Scripture taken from the New King James Version. Copyright © 1982 by Thomas Nelson, Inc.  Used by permission.  All rights reserved.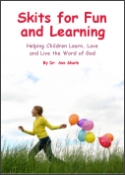 Skits for Fun and Learning
Skits for Fun and Learning is a collection of 15 puppet scripts and 5 articles on the subject of success with puppet ministries. The articles and scripts have been written by Dr. Ann Shorb and the book is available for purchase as a paperback, or as a PDF download.