PROVERBS 18:24 (KJV)
. . . there is a friend that sticketh closer than a brother.
Kaylyn's mother was concerned because her six-year-old daughter had an invisible friend. "She plays and talks to this little girl just as if she were real! Is that something to be concerned about?" her mother questioned. I smiled as I responded. "Not at this point. It's quite normal for children of this age to mix fact and fantasy and find great joy and comfort in creating their own friends. Let's face it, with an invisible friend by her side, Kaylyn will never be bored and never be lonely. As she matures and develops healthy relationships with other children, you'll hear less and less about her invisible friend." Her mother was relieved.
An invisible friend can be a great comfort—someone to giggle and laugh with, to share our secrets, to listen when we're hurting, and to blame when things go wrong. It's a whimsical part of childhood that we eventually outgrow because we no longer need it.
Those of us who know the Lord Jesus Christ have an invisible friend, too, only for us it's not fantasy, wishful thinking, nor delusion. It's reality. The Holy Spirit dwells within us and enables us to feel and know the presence of Christ every moment of every day. He's always near us, always available, and always just what we need in any given situation. Truly, the Lord makes His presence very real to those who trust Him.
Unlike our childhood fantasy, instead of growing out of it, we want to grow more into Him day by day. Instead of finding our friend a myth that cannot be supported by reality, the presence of Christ is a fact that we can count on. Instead of being cute and whimsical, He is rock solid and always steady. At any moment in time, we can turn to Him for wisdom, guidance, strength, and discernment. He is only a prayer away.
Song writer C. Austin Miles captured this concept clearly in the words of the old hymn, "In the Garden."
And He walks with me, and He talks with me,
And He tells me I am His own;
And the joy we share as we tarry there,
None other has ever known.
Daily walking with God means having an awareness of the presence of the loving, living Lord Jesus Christ. And knowing He is by our side, we live following His ways and reflecting His love.
If you're a believer, but you don't have this ongoing fellowship with Christ, prayerfully get into the Word. Learn what God is like and see His character. Read the gospels of Matthew, Mark, Luke and John to see how He revealed Himself through the actual life of the Lord Jesus Christ. Find the promises of His presence and hang on to them. Then ask the Holy Spirit to help you know, feel and enjoy having Christ by your side every moment of every day. Although you may not visibly see Him, He is the Friend who will never leave you.
Lord Jesus, it's such a comfort to know that You are always by my side and any time I turn to You, I will find You there.
By Ann Shorb
Copyright Ann Shorb, 2012
Scripture taken from the King James Version of The Holy Bible.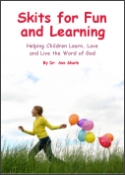 Skits for Fun and Learning
Skits for Fun and Learning is a collection of 15 puppet scripts and 5 articles on the subject of success with puppet ministries. The articles and scripts have been written by Dr. Ann Shorb and the book is available for purchase as a paperback, or as a PDF download.