Assured by the Word of God that the death of Jesus Christ on the cross is the foundation for our salvation, Lidie H. Edmunds penned the words to her famous hymn "My Faith Has Found a Resting Place".
My faith has found a resting place,
Not in device or creed;
I trust the Ever-living One,
His wounds for me shall plead.
REFRAIN:
I need no other argument,
I need no other plea,
It is enough that Jesus died,
And that he died for me.
REFRAIN
Enough for me that Jesus saves,
This ends my fear and doubt,
A sinful soul, I come to Him,
He'll never cast me out.
REFRAIN
My heart is leaning on the Word,
The written Word of God,
Salvation by my Savior's name,
Salvation through His blood.
REFRAIN
My great Physician heals the sick,
The lost He came to save;
For me His precious blood He shed,
For me His life He gave.
REFRAIN
Each verse of this joyous hymn declares the shed blood of Christ to be our healing from sin and our certainty of salvation. There's no worth in our good works, wealth, education, or fame. It is through Christ alone that we are saved. Therefore, every true believer can say without doubt, "It is enough that Jesus died, and that He died for me!"
PRAYER: Father, thank You for the sacrificial death of Christ on the cross, and for the assurance and hope we have in Him.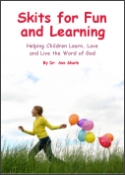 Skits for Fun and Learning
Skits for Fun and Learning is a collection of 15 puppet scripts and 5 articles on the subject of success with puppet ministries. The articles and scripts have been written by Dr. Ann Shorb and the book is available for purchase as a paperback, or as a PDF download.