I JOHN 2:1 (NKJV)
And if anyone sins, we have an Advocate with the Father, Jesus Christ the righteous. And He Himself is the propitiation for our sins, and not for ours only but also for the whole world.
Standing on the front porch of my office, I can look straight across the street to a stately office where more than half a dozen attorneys practice law.  Just a few doors to the right of that building another legal team has their office.  Then along my side of the street, just three doors from my office, a third law practice is housed.  So in 50 steps or less I can be face to face with more than a dozen legal advocates!  All of them are good attorneys, but none of them advocates for his clients as well as my Advocate represents me!
My Advocate, Jesus Christ, stands in my place before a Holy God, because He is Holy God. He pleads my case when Satan, my accuser, brings charges against me. Every time I sin, Satan delights to accuse me before God, but Jesus Christ the righteous One, steps in to represent me. Christ intercedes for me, and because of His own perfect sacrifice, my sins have been paid for.  I have no need to atone for them because He already did that for me. Satan's charges against me are dismissed! (I John 2).
As Christ intercedes for me, the Holy Spirit convicts me of my wrong and I, then, must confess to God and repent of my sin.  It is by this continual work of Christ and the Holy Spirit that I can and walk in God's light and in His love, and have sweet fellowship with my Heavenly Father.
Lord Jesus, I would be hopelessly lost without You!  Not only have You paid for my sins by Your death on the cross, but You daily stand against the one who attempts to destroy and my relationship with the Holy Father. How I thank You for being my faithful Advocate!
By Ann Shorb
©Copyright Ann Shorb, 2010
Scripture taken from the New King James Version. Copyright © 1982 by Thomas Nelson, Inc.  Used by permission.  All rights reserved.
BACK TO SCHOOL WITH SUCCESS – This article on our website provides practical help for children and parents as this new school year begins.  It may be printed free of charge as a brochure and distributed to your friends and family!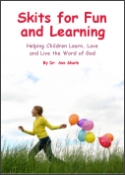 Skits for Fun and Learning
Skits for Fun and Learning is a collection of 15 puppet scripts and 5 articles on the subject of success with puppet ministries. The articles and scripts have been written by Dr. Ann Shorb and the book is available for purchase as a paperback, or as a PDF download.