ISAIAH 63:7 (KJV)
I will mention the lovingkindnesses of the LORD, and the praises of the LORD, according to all that the LORD hath bestowed on us, and the great goodness toward the house of Israel, which He hath bestowed on them according to His mercies, and according to the multitude of His lovingkindnesses.
In proclaiming God's prophetic message to His people, the prophet Isaiah told of the second coming of Christ and the horrible judgment that precedes this glorious event. Suddenly his message changed drastically with the words, "I will mention the lovingkindnesses of the LORD and the praises of the LORD." Isaiah's focus turned to the blessings bestowed on God's people and the bountiful goodness they receive from the Lord.
Truly, no matter how bad things are, there are always blessings to be found. Rather than focusing only on the negative, we do well to look for the treasures in that dark situation.
Recently, I got in my car to drive to church on Sunday morning. For once I had plenty of time. I started down the driveway, but it was obvious that something was wrong. I pulled the van back up, got out to check and sure enough my tire was completely flat. I wasn't going anywhere! I made a couple of phone calls and waited for help to arrive. Yes, I was deeply disappointed that I couldn't make it to church, but in telling the story I just have to mention the lovingkindnesses of the Lord—the weather was nice, help was only a phone call away, I had extra time to pray, read, and talk to a friend who was in crisis. AAA eventually came to fix the tire and I didn't have to do anything. Yes, it was an inconvenience and a change of plans, but all in all, I got through it OK. Not all of my problems are that easily fixed!
It isn't healthy to ignore your problems or try to wish them away. They are real and must be acknowledged; solutions must be found to deal with them. But if you focus entirely on the problem, you can feel overwhelmed and defeated. You lose your joy. Instead, admit what you're dealing with, acknowledge how you feel about it, ask for God's help, and take action according to the direction He gives. Meanwhile, look for the blessings in that troublesome situation, and don't forget to mention God's goodness and mercy to others.
Faithful Father, I know You walk with me through every frustration, trial and tragedy. You provide all that I need for every need. Let me never lose sight of Your goodness and lovingkindnesses, and may Your praise be always on my lips.
By Ann Shorb
©Copyright Ann Shorb, 2011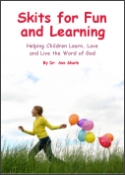 Skits for Fun and Learning
Skits for Fun and Learning is a collection of 15 puppet scripts and 5 articles on the subject of success with puppet ministries. The articles and scripts have been written by Dr. Ann Shorb and the book is available for purchase as a paperback, or as a PDF download.