NAHUM 1:7 (KJV)
The LORD is good, a strong hold in the day of trouble; and He knoweth them that trust in Him.
Read last week's devotional Mention the Lovingkindness of God.
A flat tire isn't usually considered a blessing, but in my case it was—maybe it was even a life saver. Last week I shared with you a story of finding blessings even when I discovered a flat tire that changed my plans one Sunday morning. After writing that, I learned that there was an even bigger blessing behind the scene that I wasn't aware of at the time.
When AAA Road Service came that Sunday morning, they removed the flat tire and put on the temporary spare tire. The old tire was punctured on the side and couldn't be repaired so I had to buy a new one later that week. In that whole process, I discovered that two of my tires were defective and desperately needed to be replaced. I thanked mechanic for replacing both tires that week because I had to drive to Philadelphia over the weekend. He turned and looked at me with dismay. "You wouldn't have wanted to drive to Philly with those tires! You would have really had trouble!" Both tires were literally ready to fall apart. If the one tire had not been punctured and gone flat, I would have happily started out for a weekend speaking engagement without a clue that significant danger lay ahead. I shuttered at the thought of what could have happened. Then an overwhelming wave of gratitude swept over me as I uttered the words, Thank you, Lord, for my flat tire!
It constantly amazes me how a God big enough to create and rule the entire universe cares enough watch over every tiny detail of our lives—but He does, always.
On this Memorial Day weekend, let's remember to thank and praise God for all the folks who have served in our country's military forces. As believers in Christ, let's also thank Him for being our great Commander in Chief who helps us fight our everyday battles, and comes to our aid in time of need.
God, how amazing You are! Thank You for giving me what I needed, when I needed it, even though I didn't know that I needed it. Thank You, again, for a flat tire that prompted me to replace those dangerous and worn tires and provided me with safety. Truly, You are good! You are my strong hold in the day of trouble.
By Ann Shorb
©Copyright Ann Shorb, 2011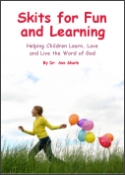 Skits for Fun and Learning
Skits for Fun and Learning is a collection of 15 puppet scripts and 5 articles on the subject of success with puppet ministries. The articles and scripts have been written by Dr. Ann Shorb and the book is available for purchase as a paperback, or as a PDF download.