MATTHEW 26:36-46 (NKJV)
Then Jesus came with them to a place called Gethsemane, and said to the disciples, "Sit here while I go and pray over there." And He took with Him Peter and the two sons of Zebedee, and He began to be sorrowful and deeply distressed. Then He said to them, "My soul is exceedingly sorrowful, even to death. Stay here and watch with Me."
He went a little farther and fell on His face, and prayed, saying, "O My Father, if it is possible, let this cup pass from Me; nevertheless, not as I will, but as You will" . . .
Again, a second time, He went away and prayed, saying, "O My Father, if this cup cannot pass away from Me unless I drink it, Your will be done."  
. . . and [He] prayed the third time, saying the same words. Then He came to His disciples and said to them, "Are you still sleeping and resting? Behold, the hour is at hand, and the Son of Man is being betrayed into the hands of sinners. Rise, let us be going. See, My betrayer is at hand."
There are some things I forget when I shouldn't; there are others I'd like to forget but I can't. Still there's one thing that if I forget it would be a great tragedy and that is the suffering of Jesus my Savior.
Of that night in the Garden of Gethsame, Luke 22:46 says, "And being in agony, He prayed more earnestly. Then His sweat became like great drops of blood falling down to the ground."
Born in 1874, Jennie Evelyn Hussey lived in New England where generations of her family had existed. For most of her adult life, Jennie devoted her time and energy to staying at home and caring for her invalid sister. Over the years this became more and more difficult because Jennie herself was plagued with deformative arthritis.
Amazingly, she never complained, but rather looked at this as her assignment from the Lord. At one point, when things seemed almost unbearable, Jennie prayed, "Please, Lord, make me willing to bear my cross daily without complaining because you bore yours for me."
As often happened, her words took on poetic form, and over the next few days she wrote several other verses expressing her deep love and submission to Christ. Her heart was stirred and her song was complete. These became the words to her well-known hymn, "Lead Me To Calvary".
Jennie never forgot the deep sufferings of Christ as He lingered in the Garden of Gethsemane, nor His great sacrifice on the cross of Calvary. Constantly her heart returned to the cross where she saw Him wounded and dying for those He loved, and her greatest desire was to give her life in joyful service for Him.
Read again through the scripture passage above. Let the intensity of that night in the garden sink in. Can you imagine the depth of sorrow Christ must have faced knowing that in just a few hours He would experience the worst suffering ever known to man? Can you sense the aloneness He felt when His own disciples couldn't even stay awake long enough to be there for Him? Can you feel the dread when three different times He repeated, "Father if there's any other way . . ."
The moment we lose the awareness of the great sacrifice Christ made to purchase our redemption, that's when we no longer see the need to live for Him zealously. Our love for Him wanes. Our commitment to His calling weakens. Our desire to follow His commandments wavers. And our testimony before the world washes away. We must never forget what He has done for us.
Prayer: Lord Jesus, You showed Your deep, deep love for us by becoming our Sacrificial Lamb who sorrowed, suffered, and was slain for our sin. Oh Lord, may we never forget.
Words to Ponder:
Lest I forget Gethsemane,
Lest I forget Thine agony,
Lest I forget Thy love for me,
Lead me to Calvary.
— From "Lead Me to Calvary" by Jenny Evelyn Hussey, 1874-
Read the Entire Hymn.
By Ann Shorb
Copyright Ann Shorb, 2013
Scripture taken from the New King James Version. Copyright © 1982 by Thomas Nelson, Inc.  Used by permission.  All rights reserved.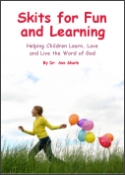 Skits for Fun and Learning
Skits for Fun and Learning is a collection of 15 puppet scripts and 5 articles on the subject of success with puppet ministries. The articles and scripts have been written by Dr. Ann Shorb and the book is available for purchase as a paperback, or as a PDF download.