Psalm 121:1-2 (NKJV)
I will lift up my eyes to the hills—
From whence comes my help?
My help comes from the LORD,
Who made heaven and earth.
The days have cooled down considerably and hours of sunlight are growing shorter.  These are good reminders that fall has arrived here in southern Pennsylvania.  The leaves are changing colors and quietly dropping from the trees.  The passing of the seasons is so rhythmic, so perfectly ordered, that it comes and goes routinely.
This is a perfectly clear day.  I look around at the hills with their blush of color and the sun shining brilliantly on the landscape, and I see His majesty and power and greatness.  Psalm 121:1-2 comes to mind.
How exciting to think that the God whose handiwork is displayed in the hills and the sky is the very God who made me!  He knows every detail of my life and He is great enough to provide help for every problem that comes my way.  Truly my help comes from the Lord.
Regardless of where you are, on the days when you feel down or discouraged or lonely, look up!  Look around you at the land formations, the colors, the beauty, the uniqueness of what lies around you.  Be reminded that the great Creator who made it all loves and cares about you.  Remember the faithfulness of the unchanging God who formed and fashioned it all and be encouraged.
Almighty God, thank You for the colorful reminder of Your might and power and majesty.  Your greatness amazes me!
By Ann Shorb
©Copyright Ann Shorb, 2010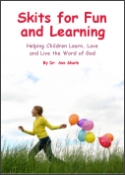 Skits for Fun and Learning
Skits for Fun and Learning is a collection of 15 puppet scripts and 5 articles on the subject of success with puppet ministries. The articles and scripts have been written by Dr. Ann Shorb and the book is available for purchase as a paperback, or as a PDF download.