PSALM 68:19 (KJV)
Blessed be the Lord, who daily loadeth us with benefits, even the God of our salvation.
It was a stressful day, and as it ended the weather forecaster was announcing a severe storm warning for our area. I stepped out the back door of our house to look at the roses before the storm broke; I gasped when I saw the sky. It was still perfectly clear directly above me, but in the distance dark clouds rolled across the sky with a rainbow perfectly woven through them. It was almost overwhelming.
With that as my backdrop, I walked through the yard taking in the beauty of the abundant blooms on the roses, while the gentle breeze lifted their fragrance through the air.  And if these blessings weren't enough, my phone rang and the voice of a good friend brought words of cheer.
As I sat on the bench talking with my friend, a tiny rabbit hopped through the grass, several birds fluttered about, and I felt the breeze of a perfect summer evening.  My soul was refreshed by the little reminders of God's greatness, the beauty of the things right outside my backdoor, and the thought that tomorrow will be another day—and there will be more blessings from a Father who delights in delighting us!
Blessed Lord, thank You for the little things that brighten each day.
By Ann Shorb
©Copyright Ann Shorb, 2010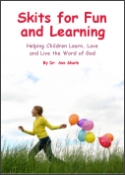 Skits for Fun and Learning
Skits for Fun and Learning is a collection of 15 puppet scripts and 5 articles on the subject of success with puppet ministries. The articles and scripts have been written by Dr. Ann Shorb and the book is available for purchase as a paperback, or as a PDF download.