JOHN 12:13
Hosanna!  Blessed is the King of Israel that cometh in the name of the Lord.
Oh, how the crowd cheered Christ as He entered Jerusalem! He had turned water into wine, healed the lame and the blind, preached to the multitudes, and fed more than 5,000 people with a simple lunch. People watched and were amazed at His greatness, but when he raised Lazarus from the dead they knew for sure that this was their king! So they honored and hailed Him, bowed before Him and shouted in triumph proclaiming Him the one who came in the name of the Lord, (John 12:12-18).
Yet less than a week later those who feared and hated this Christ sought to destroy Him and stirred the people so that some of the same crowed that claimed Him as king cried, "Away with him! Crucify him!" They changed their minds, but that didn't change the fact that He was indeed the King of Kings! (John 19:14-15).
In your own life, are there days when you gaze on His greatness and honor Him and allow Him to be King over your attitudes and actions?  Do you worship and adore Him at times, and then let your heart be stirred by difficult circumstances, tragic conditions, and doubts and despair that causing you to renounce your King?  If you believe that the Lord Jesus Christ is truly King of Kings and Lord of Lords, then let Him reign in your life daily. Live in honor and praise to Him constant.  Worship Him only and obey His leading consistently.  Subject yourself to His authority and make Him ruler of your life.
Hosanna! Christ is King!
By Ann Shorb
© Ann Shorb, 2009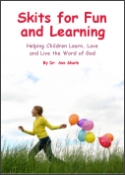 Skits for Fun and Learning
Skits for Fun and Learning is a collection of 15 puppet scripts and 5 articles on the subject of success with puppet ministries. The articles and scripts have been written by Dr. Ann Shorb and the book is available for purchase as a paperback, or as a PDF download.