2 KINGS 4:25-26 (NKJV)
So it was, when the man of God saw her afar off, that he said to his servant Gehazi, "Look, the Shunammite woman!  Please run now to meet her, and say to her, 'Is it well with you?  Is it well with your husband?  Is it well with the child?' "
And she answered, "It is well."
Elisha was God's prophet and the miracles he performed were miracles of charity.  He helped people in need.  2 Kings 4 records the story of a wealthy woman who recognized him as a man of God, and honored him by inviting him to dine in her home whenever he was in the area.  Later, she blessed and honored Elisha by persuading her husband to make a guest room for this prophet to use any time he traveled their way.
In return, the man of God blessed this childless couple by asking God to give them a son, not only as a source of joy, but one who would care for his mother when her elderly husband was gone.  Several years later, in a strange turn of events, instead of the old man dying, the young child fell ill and died.  The source of her greatest joy became the source of her deepest pain.
Immediately, instead of wailing in agony or turning to anyone else, the woman turned to the man of God.  She had heard that he had raised others from the dead and provided for the destitute.  In her greatest need she traveled to see him.
As she approached his home, Elisha saw the woman and sent his servant to check on her.  "Is it well with you?  With your husband?  With your son?" he questioned, and she replied, "It is well." Yet her beloved child was dead!  Was she hiding her feelings?  Was she lying?  Was she in denial?  Was she just in a hurry to get to the prophet himself?  I truly believe she was trusting God for a miracle–that she expected Him to raise her son from the dead, or to heal her broken heart.
Elisha immediately saw her deep distress and persistence in seeking his help, and he and his servant traveled to the woman's home.  There the prophet pleaded with God and persistently waited for life to return to the dead child.  Her faith was rewarded and she immediately honored the prophet for his kindness.
What a beautiful reminder that when life throws us hardship, unbelievable pain, and impossible situations, we can turn to the Source of all blessing and look to Him for all that we need in that moment.  Truly we can say as this woman did, "It is well," trusting that He will do the miracle of seeing us through life's greatest crises and mending broken hearts.
Almighty God, grant us grace to trust You always to be the Source of all life and all provision for our every need.
By Ann Shorb
©Copyright 2010, Ann Shorb
Scripture taken from the New King James Version. Copyright © 1982 by Thomas Nelson, Inc.  Used by permission.  All rights reserved.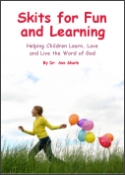 Skits for Fun and Learning
Skits for Fun and Learning is a collection of 15 puppet scripts and 5 articles on the subject of success with puppet ministries. The articles and scripts have been written by Dr. Ann Shorb and the book is available for purchase as a paperback, or as a PDF download.