Psalm 63:5-7
My soul shall be satisfied as with marrow and fatness, and my mouth shall praise You with joyful lips. When I remember You on my bed, I meditate on You in the night watches. Because You have been my help, therefore in the shadow of Your wings I will rejoice.
Why is it that when night falls all our problems seem bigger and bolder? Is it because that's when we stop the hurrying and rushing and finally have time to think and feel? Or is it because the darkness brings with it a somber insecurity? Whatever the reason, you know what I'm talking about.
Last night I couldn't sleep. My mind was playing and replaying events from this week, and my heart was anxious over what might transpire next week. I tossed. I turned. Then I remembered the words of the psalmist, "When I remember you on my bed, I meditate on You in the night watches." So I deliberately turned my thoughts from my busyness and worries and focused on God. This time I didn't recite His promises as I sometimes do, but rather focused on HIM. I thought about His goodness, His grace, His loving kindness, and His unfailing love.
Several years ago I was blessed to lead Kay Arthur's study Lord, I Want to Know You, that takes an in-depth look at 15 of the names of God and applies them to my life right here, right now. So last night I remembered that He is El Roi, the God Who Sees (Genesis 16). He is Jehoavh-jireh, The LORD Will Provide (Genesis 22). And He is Jehovah-raah, The LORD My Shepherd (Pslam 23).
As I meditated on God, a calm came over my body, mind and spirit. I rested. I slept. And I awakened to a new day knowing that "The name of the Lord is a strong tower. The righteous run into it and are safe," (Proverbs 18:10).
Blessed Father, thank You that the darkness is the same as the light to You. Thank You for the assurance that Your strength, might, love, and compassion shine just as brightly in the dark hours of night as in the fullness of the day.
By Ann Shorb
©Copyright Ann Shorb, 2008
Scripture taken from the New King James Version. Copyright © 1982 by Thomas Nelson, Inc. Used by permission. All rights reserved.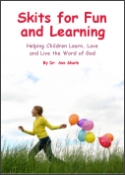 Skits for Fun and Learning
Skits for Fun and Learning is a collection of 15 puppet scripts and 5 articles on the subject of success with puppet ministries. The articles and scripts have been written by Dr. Ann Shorb and the book is available for purchase as a paperback, or as a PDF download.