GENESIS 12:2 (NKJV)
Now the LORD had said to Abram . . .
I will make you a great nation;
I will bless you . . .
The book I hold in my hand is old and worn. Across the front it says, HALLEY'S BIBLE HANDBOOK. The original copyright date is 1927; the newest is 1962. As I thumb through the yellowed pages, a piece of paper falls out. It was cut from a newsletter of some type, folded, and placed inside this book for safe keeping. It reads:
I WILL
I will bless thee,
Genesis 12:2
I will not fail thee,
Joshua 1:5
I will heal thee,
2 Kings 20:5
I will guide thee,
Psalm 32:8
I will instruct thee,
Psalm 32:8
I will teach thee,
Psalm 32:8
I will deliver thee,
Psalm 50:15
I will satisfy,
Psalm 132:15
I will help thee,
Isaiah 41:10
I will strengthen thee,
Isaiah 41:10
I will uphold thee,
Isaiah 41:10
I will hold thine hand,
Isaiah 42:6
I will not forget thee,
Isaiah 49:15
I will comfort thee,
Isaiah 66:13
I will forgive,
Jeremiah 31:34
I will restore,
Jeremiah 30:17
I will be your God,
Ezekiel 36:28
I will put my Spirit within you,
Ezekiel 36:27
I will save you,
Ezekiel 36:29
I will love him,
John 14:21
I will manifest myself,
John 14:21
I will come again,
John 14:3
I will sup with him,
Revelation 3:20
I will give thee a crown of life,
Revelation 2:10
–Unknown
Although the paper is old and brittle, the promises of God written here are as fresh and alive as the day this piece was printed! From Genesis to Revelation, the moment they were breathed by God into the heart and mind of His writers, these words were true and unchangeable.
Read through these promises again, only this time, replace "thee" with "you." You'll find these promises much more meaningful and personal when you do. That's the way God's promises are—meaningful and personal. You can count on them to be your strength, your shield, and your comfort, for indeed, when God says, "I will," without fail, He will!
PRAYER: Almighty God, thank You for certainty of Your promises, and the security they provide.
WORDS TO PONDER: "There is a living God. He has spoken in the Bible. He means what He says and will do all He has promised."
–James Hudson Taylor (1832-1905), English Medical Missionary
RELATED DEVOTIONAL:
His Grace is Sufficient
By Ann Shorb
©Copyright Ann Shorb, 2014
Scripture taken from the New King James Version. Copyright © 1982 by Thomas Nelson, Inc.  Used by permission.  All rights reserved.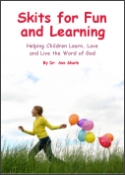 Skits for Fun and Learning
Skits for Fun and Learning is a collection of 15 puppet scripts and 5 articles on the subject of success with puppet ministries. The articles and scripts have been written by Dr. Ann Shorb and the book is available for purchase as a paperback, or as a PDF download.