"I love you! I love you! I love you! I love to you!" As I scooped my two year old granddaughter into my arms, the words came tumbling out. I just couldn't keep them in! She giggled. We snuggled, and the whole evening was a carnival of fun and frolicking.
My other five grandchildren live far away so I don't get to see them often, but we stay in touch, mostly by phone. Even though I can't see them or hug them face to face, "I love you!" just comes tumbling out all the time. I just can't keep it in!
"Grammy, you always say that!" my little granddaughter exclaims.
"It's because I always love you!" I reply.
Love is like that. When it's alive and active, it just comes out through words, cards and notes, actions, special treats and gifts, time together, or hugs and kisses. You just can't hold it in! And when love flows both ways, there's always connection, always concern, always anticipation of being together, and always a deepening relationship.
The same is true for our relationship with the Lord. Even though we can't see or touch Him physically, we can experience His many expressions of love for us. A beautiful sunset, the parking place I prayed for, a love letter from His Word, a gentle reassurance of His presence during difficult times, the comfort and connection of family and dear friends, all speak to me of His love and my heart is thrilled. I just want to say, "I love You! I love You! I love You! I love You!"
The Bible tells us that the Lord delights to hear the praises of His children. The more we get to know Him, the more time we spend with Him in prayer, and in His Word, the more precious He becomes, so that without even trying, our words of praise, love, and adoration come tumbling out. Let's sing His praises today and everyday!
PRAYER: Loving Father, I love You and I praise You for loving me.
WORDS TO PONDER:
"Thee we would be always blessing,
Serve Thee as Thy hosts above, Pray and praise Thee without ceasing,
Glory in Thy perfect love."
–Charles Wesley, Love Divine
By Ann Shorb
Copyright, Ann Shorb, 2015
Scripture taken from the New King James Version, copyright 1982 by Thomas Nelson, incorporated. Used by permission. All rights reserved.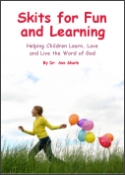 Skits for Fun and Learning
Skits for Fun and Learning is a collection of 15 puppet scripts and 5 articles on the subject of success with puppet ministries. The articles and scripts have been written by Dr. Ann Shorb and the book is available for purchase as a paperback, or as a PDF download.