PSALM 119:81,114
My soul fainteth for Thy salvation: but I hope in Thy word . . . Thou art my hiding place and my shield:  I hope in Thy word.
Political changes and economic worry seem to be the major topics of conversation in our country right now, yet I know that many of you live every day with other uncertainties in your private world that seem greater than either of these.  Major illness, death of a loved one, a poor marriage, caring for an elderly parent, an addiction (either your own or someone else's), children making poor choices, you name it.  The list could go on and on.  It's easy when you are exhausted and weary to give up and feel that you just can't do it any more.
Have you wondered, But what hope is there?  There seems to be no way out.  What is my way of escape?  Often God does not remove our circumstances as His way of escape, but rather He gives us His very presence through our darkest and seemingly unbearable hours.  He provides comfort through His promises and hope through our remembrance of His faithfulness.  In God's Word you can find . . .
Hope for the Past . . .
Why art thou cast down, O my soul?  And why art thou disquieted in me? Hope thou in God: for I shall yet praise Him for the help of His countenance, (Psalm 42:5).
Hope for the Present . . .
We glory in tribulations also: knowing that tribulation worketh patience; and patience, experience; and experience, hope: and hope maketh not ashamed; because the love of God is shed abroad in our hearts by the Holy Ghost which is given unto us, (Romans 5:3-5).

Hope for the Future . . .
Beloved, now are we the sons of God, and it doth no yet appear what we shall be: but we know that, when He shall appear, we shall be like Him; for we shall see Him as He is.  And every man that hath this hope in Him purifieth himself, even as He is pure, (I John 3:2-3).
Friend, I am not trying to make light of your difficult situation; rather, I hold out to you the lamp of hope. Know that God has not left you nor abandoned you regardless of how it feels. Find strength in the fact that He is working behind the scenes to meet your every need and give you the strength for each hour.  Remember the words of Psalm 31:24, "Be of good courage, and He shall strengthen your heart, all ye that hope in the LORD." Hang in there!  His help is near because He is near.

Blessed Savior, be near to each one who is struggling beneath a load of care today.  Give him/her a sense of Your very presence, and hope for each step of the way.
By Ann Shorb
Copyright Ann Shorb 2008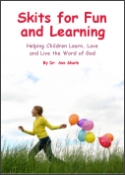 Skits for Fun and Learning
Skits for Fun and Learning is a collection of 15 puppet scripts and 5 articles on the subject of success with puppet ministries. The articles and scripts have been written by Dr. Ann Shorb and the book is available for purchase as a paperback, or as a PDF download.