Habakkuk 3:19
The LORD God is my strength, and He will make my feet like hinds' feet, and He will make me to walk upon mine high places.
Every year as spring arrives, I remember the time when we lived in France and went high into the Alps to a rustic retreat center. The sky was blue, the air was crisp and patches of snow spotted the mountainside. Here and there delicate little wild flowers showed their faces, some even pushing up through the crusty snow patches. At that elevation it seemed we could see forever. Being in the high place gave a different perspective to the whole world. It was a moment I wished would never end.
Three times in the Old Testament we read nearly the same words as the writers draw a beautiful word picture of being able to climb like the mountain hind (deer) to the high places because of the strength, agility, and balance that the Lord Himself provides (II Samuel 22:33-34, Psalm 18:33, and Habakkuk 3:19). Each reference comes after a traumatic and fearful event in the writer's life, and he finds great joy in knowing that God will take him above his circumstances, beyond all fear and pain to a place where the world is bright and God's glory shines. A place of hope, joy and new perspective await him as he relies on God's strength to take him there.
My friend, when you find yourself in the valley of difficulty, sadness and despair, ask God to take you to the high places. Even if it's only a momentary visit your soul will be refreshed and new hope will strengthen your heart.
Almighty Father, help me set my sights on the high places. Give me strength, confidence, balance, and direction to take me to the place where I feel Your presence and see You in Your greatness.
By Ann Shorb
Copyright Ann Shorb, 2008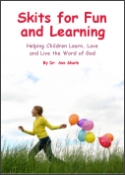 Skits for Fun and Learning
Skits for Fun and Learning is a collection of 15 puppet scripts and 5 articles on the subject of success with puppet ministries. The articles and scripts have been written by Dr. Ann Shorb and the book is available for purchase as a paperback, or as a PDF download.