PSALM 91 (NKJV)
For He shall give His angels charge over you,
To keep you in all your ways.
PSALM 31:14-15 (NKJV)
But as for me, I trust in You, O Lord;
I say, "You are my God."
My times are in Your hand.
Every day God protects us from dangers that we never see or know about, but sometimes His protection is so glaringly obvious that we just stand in amazement. That happened to me as I drove home one evening recently, my three oldest granddaughters in the car with me.
We were having a sleep-over that night so the chatter in the car was filled with excitement and joy, even though outside storm clouds threatened, and occasional streaks of summer lightening flashed across the sky.
We were nearly home when the strangest thing happened. I was following a large tractor trailer truck along an old residential route in town, when suddenly lightening struck a tree along the side of the street. A massive section of branches, limbs, and leaves fell on top of the truck, then dropped down onto the roadway directly in front of my vehicle. Thankfully, I was able to stop safely. No electrical wires came down and no one was hurt. When I got out of my car and walked around where I could actually see the size of the branches that fell, I shuttered to think what could have happened if they had landed on my car.
Instantly my heart filled with gratitude and praise for God's wondrous protection. The words of Psalm 91:11 swirled through my mind over and over again, "For He shall give His angels charge over you, to keep you in all your ways."
The whole event happened so quickly, but it was a great reminder that every moment we live, we are in God's care. No matter how hard we work to protect ourselves and others, or how much we may feel in control, every moment of our lives is in His hands. In Him, and Him alone, we can feel secure.
Prayer: Oh Father, I am keenly aware of Your protection in such a dangerous situation! Over and over again my heart praises You for watching over and keeping us safe in times like these—and in the times when I never even see the danger that is around me. Thank You, Lord!
Words to Ponder:
"God will take care of you,
Thro' ev'ry day,
O'er all the way;
He will take care of you,
God will take care of you."
— C.D. Martin
By Ann Shorb
Copyright Ann Shorb, 2013
Scripture taken from the New King James Version. Copyright © 1982 by Thomas Nelson, Inc.  Used by permission.  All rights reserved.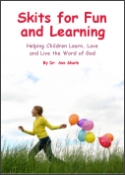 Skits for Fun and Learning
Skits for Fun and Learning is a collection of 15 puppet scripts and 5 articles on the subject of success with puppet ministries. The articles and scripts have been written by Dr. Ann Shorb and the book is available for purchase as a paperback, or as a PDF download.