PSALM 115:3 (NKJV)
Not unto us, O LORD, not unto us,
But to Your name give glory,
Because of Your mercy,
Because of Your truth.
Why should the Gentiles say,
"So where is their God?"
But our God is in heaven;
He does whatever He pleases.
Did you read the verses above? Did you catch the phrase, "He does whatever He pleases"? When we use that phrase, it usually means that someone is selfish and inconsiderate of the needs of others. It certainly doesn't carry with it pleasant thoughts of the person and it isn't complimentary! Here in this text, however, just the opposite is true. This is a terrific thought because it speaks of God our all-wise, all-knowing, all-caring, loving Heavenly Father, who is full of mercy and truth.
God does whatever He pleases, and it pleases Him to be there when you are hurting, to give strength when you are weak, to be your
Friend when you are lonely, and to show the way when darkness overshadows you. As Psalm 23 reveals, He will be all that you need for every need. Truly He is your Good Shepherd who watches over, provides for, prepares for, leads and protects you. You can be sure that whenever this Father does whatever He pleases, He has your best interest in mind and He never ever seeks to harm you.
Knowing all of this, why then is it so hard to surrender our will to His? Why do we fuss, fight and fume when we feel God is asking us to do something that doesn't make sense or seem right to us at the time? Why do we strain and complain when things don't go the way we want them to? Let us always remember and lean on the fact that God is full of mercy and truth and in His goodness He will do whatever He pleases.
Loving Father, Gentle Shepherd, may my will constantly give way to Yours so that with joy and thanksgiving I accept whatever You are pleased to do in my life.
By Ann Shorb
©Copyright 2011, Ann Shorb
Scripture taken from the New King James Version. Copyright © 1982 by Thomas Nelson, Inc.  Used by permission.  All rights reserved.
HERE'S ONE OF MY FAVORITES!
A Shepherd Looks at Psalm 23
By W. Phillip Keller / Zondervan

It's been thirty five years and two million copies since W. Phillip Keller gave us A Shepherd Looks at Psalm 23, and it continues to encourage and inspire Christians with its classic insights into the heart of the Good Shepherd, Jesus Christ. Page by page, Keller reveals new facets of the Shepherd of Psalm 23 and his tireless, devoted care of His sheep. In these pages you will discover an uplifting expression of Christ's love for those that trust him as their protector, guide, provider and faithful keeper.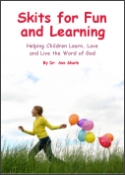 Skits for Fun and Learning
Skits for Fun and Learning is a collection of 15 puppet scripts and 5 articles on the subject of success with puppet ministries. The articles and scripts have been written by Dr. Ann Shorb and the book is available for purchase as a paperback, or as a PDF download.