Isaiah 43:1-2
But now, thus says the LORD, who created you, O Jacob, And he who formed you, O Israel: "Fear not, for I have redeemed you; I have called you by your name; You are mine."
I stood staring at the racks of clothing, wondering if I should choose the pink blouse or the green one, when I heard a familiar voice call, "Ann!" Calling my name got my attention, and that voice brought joy to my heart. I turned and was greeted by the smiling face of a dear friend and we had a time of sweet fellowship.
Psalm 23 is one of the most loved passages in all of scripture because it comforts us with the image of a good shepherd caring for His helpless, mindless sheep. Can't you just picture the sheep grazing quietly in the field while the shepherd walks among them patting each one as he passes? At just the right time, he stands, calls them to follow him and gently chants as he walks forward. What is he chanting? One after the other the shepherd calls out the names of his sheep. Every one of them has a name, and he knows them all. Each sheep hears that familiar voice and his own name and follows the steps of the shepherd.
Jesus said of a good shepherd, "The sheep hear his voice; and he calleth his own sheep by name, and leadeth them out." Then he told the disciples, "I am the Good Shepherd, and know my sheep, and am known of mine," (John 10:3).
What a precious thought! My Jesus knows me by my name. I'm not a number, not a symbol, not just one in a series. I belong to Him and He knows my name. What joy and what security! Indeed, this is my point of identity and the basis for my self-esteem. Ah, sweet fellowship for I am His and He is mine!
Blessed Shepherd, the comfort of knowing that you know me by name is beyond all measure. When I feel insignificant and afraid, let me hear Your voice tenderly calling and find security in knowing that I am Yours and You are mine.
By Ann Shorb
©Copyright Ann Shorb, 2006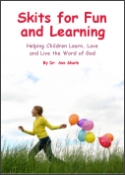 Skits for Fun and Learning
Skits for Fun and Learning is a collection of 15 puppet scripts and 5 articles on the subject of success with puppet ministries. The articles and scripts have been written by Dr. Ann Shorb and the book is available for purchase as a paperback, or as a PDF download.