Lamenations 3:22-23 (NKJV)
Through the Lord's mercies we are not consumed,
Because His compassions fail not.
They are new every morning;
Great is Your faithfulness.
For years "Great is Thy Faithfulness" has been my favorite song. There's something about that majestic old hymn that thrills my heart every time I hear it. While the music stirs my soul, it's the words penned by Thomas O. Chisholm in the 1800's that touch my heart and stir up overwhelming gratitude within me. These words reflect the thoughts of the Old Testament prophet, Jeremiah, who is often referred to as "The Weeping Prophet."
It's interesting that Jeremiah recorded these blessed thoughts of God's faithfulness and compassion after a long, bold statement of his dissatisfaction with life. Lamentations 3:1-20 is his account of pain, sorrow, and sufferings. Then, in the midst of his groaning, the prophet stops complaining and turns his focus to the goodness of God through it all. The man praises God and concludes that apart from His mercies and unfailing compassion, life would be unbearable.
Verse one of Chisholm's song speaks of God's unchanging faithfulness and compassion now and forever. The second stanza reminds us that through all seasons and all times, all of nature praises Him. And the last verse declares that our pardon, our peace, and His presence are among His unlimited blessings that cheer and sustain us through each and every day. Each statement ends with the rousing words of praise:
Great is Thy faithfulness,
Great is Thy faithfulness,
Morning by morning new mercies I see:
All I have needed Thy hand hath provided –
"Great is Thy faithfulness," Lord unto me!
We would all do well to listen to ourselves from time to time to see where our focus is. Are we continually singing the blues about the sorrows of life? Have we lost our joy? Are we stuck in the mire of discouragement and despair? Like Jeremiah, we can turn our focus to the compassion, mercy and faithfulness of Almighty God and find cause for rejoicing. His blessings are new every morning.
PRAYER: Thank You for your unfailing love and kindness, Father, and for the blessings that await me with the dawn of each new day.
READ RELATED DEVOTIONALS:
By Ann Shorb
Copyright Ann Shorb, 2014
Scripture taken from the New King James Version. Copyright © 1982 by Thomas Nelson, Inc.  Used by permission.  All rights reserved.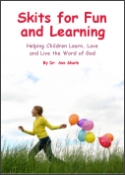 Skits for Fun and Learning
Skits for Fun and Learning is a collection of 15 puppet scripts and 5 articles on the subject of success with puppet ministries. The articles and scripts have been written by Dr. Ann Shorb and the book is available for purchase as a paperback, or as a PDF download.