PSALM 23:6 (NKJV)
Surely goodness and mercy shall follow me
All the days of my life;
And I will dwell in the house of the Lord
Forever.
It was late when I left the office. It was already dark, and my car was parked across the street and down the block. Normally, I don't mind walking that distance to my car at night, but with a recent event that occurred in the neighborhood, I was hesitant to walk alone. Thankfully, Steve, our intern, was still there when I closed the office that evening. His car happened to be closer than mine, and he offered to drive me to my vehicle.
"How about just watching me as I go?" I said. He agreed so that's what we did.
Steve pulled his car around to the front of the building just as I exited the front door. I crossed the street and proceeded up the block with his headlights slowly following me. It felt good to have those two lights behind me illuminating the way before me. I knew I was not alone and I felt safe every step of the way. My friend was close by and was looking out for me.
When he wrote Psalm 23, David knew just how I felt that night. He had the twin lights of goodness and mercy following him every step of his journey and he felt safe. His Shepherd was close by and was looking out for him. He did not walk alone.
How thankful I am that the same Good Shepherd that walked with David walks with me showing His goodness and mercy along the way.. That brings comfort in the dark night—and joy in the light of day.
Prayer: Tender Shepherd, Your goodness and Your mercy provide constant security for me as I journey through life. I rest in that knowledge and feel the warmth of Your care.
Words to Ponder: "Today we are afraid of simple words like goodness and mercy and kindness. We don't believe in the good old words because we don't believe in good old values anymore. And that's why the world is sick."
–Lyn Yutang, Chinese prolific writer and editor, 1895-1976
By Ann Shorb
©Copyright, Ann Shorb, 2013
Scripture taken from the New King James Version. Copyright © 1982 by Thomas Nelson, Inc.  Used by permission.  All rights reserved.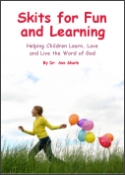 Skits for Fun and Learning
Skits for Fun and Learning is a collection of 15 puppet scripts and 5 articles on the subject of success with puppet ministries. The articles and scripts have been written by Dr. Ann Shorb and the book is available for purchase as a paperback, or as a PDF download.