Philippians 4:5-7
Let your gentleness be known to all men. The Lord is at hand. Be anxious for nothing, but in everything by prayer and supplication, with thanksgiving, let your requests be made known to God; and the peace of God, which surpasses all understanding, will guard your hearts and minds through Christ Jesus.
In this rocky and chaotic world peace is often hard to find, but God promises that those who turn to Him can have a peace that goes beyond all human understanding.
Peace with God comes the very moment you place your faith and trust in Jesus Christ to be your savior. You are reconciled to God. It is similar to the signing of a peace treaty for you are no longer God's enemy living in sin; you are at peace with Him and a new relationship has been established. It is instantaneous and can never be erased, diminished or reversed.
The peace of God comes as the result of growing in Christ after that initial peace with God has been made. It is the building and settling of your life in Christ (I Peter 5:10). The peace of God comes by living according to the steps given in Philippians 4:5-7.
1. Let your gentleness be known means to have control over your own spirit. When you lead a self-controlled and disciplined life, you don't create unnecessary problems and stress for yourself or others. (II Corinthians 13:5)
2. Be anxious about nothing directs you to trust God and not worry. That's easier said than done, I know, but I Peter 5:7 reminds you to cast your cares on Him. Just toss them over to God and let Him work out the details.
3. In everything by prayer and supplication, with thanksgiving, let your requests be known to God parallels Hebrews 4:16 that says to come boldly before God's throne and ask specifically concerning your needs. He'll listen to anything and everything.
The result of living a disciplined life, telling God about your every need, and trusting Him to work out the details is that you will experience an inexplicable peace even in the midst of chaos. No matter what situation may have rocked your world recently, God longs to cradle you in His loving arms and to give you that peace.
Heavenly Father, today I know that many of my readers are hurting, scared, and facing difficult situations. As they come to You, Lord, please hold them so close that they will feel the very heartbeat of Your presence and be filled with peace.
Ann Shorb
Copyright Ann Shorb, 2007
*Scripture taken from the New King James Version. Copyright © 1982 by Thomas Nelson, Inc. Used by permission. All rights reserved.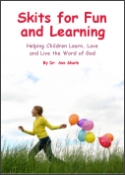 Skits for Fun and Learning
Skits for Fun and Learning is a collection of 15 puppet scripts and 5 articles on the subject of success with puppet ministries. The articles and scripts have been written by Dr. Ann Shorb and the book is available for purchase as a paperback, or as a PDF download.