1 John 4:18 (NKJV)
There is no fear in love; but perfect love casts out fear, because fear involves torment. But he who fears has not been made perfect in love.
I hate to admit it but there are days when I get anxious about things. Thinking about the future and "What if . . ." and "How can I . . ." make my head spin! In those moments, I have to step back and ask myself, "Hmmmm . . . What would Dr. Ann Shorb, the counselor, tell her client to do about this?" Then I must follow my own advice!
First, I have to remember that I am a child of the King. The Bible clearly tells me that as God's child I have nothing to fear, because God loves me and He will take care of me. His love for me is so strong that He will protect me from anything and everything that is not for my good and for His glory; therefore, I am assured that I am safe and I secure. Then it helps to get into the Word and actually read some of the passages that describe His love for me.
Deuteronomy 33:12 (NKJV)
"The beloved of the Lord shall dwell in safety by Him,
Who shelters him all the day long;
And he shall dwell between His shoulders."
Jeremiah 31:3 (NKJV)
The Lord has appeared of old to me, saying:
"Yes, I have loved you with an everlasting love;
Therefore with lovingkindness I have drawn you.
Zephaniah 3:17 (NKJV)
The Lord your God in your midst,
The Mighty One, will save;
He will rejoice over you with gladness,
He will quiet you with His love,
He will rejoice over you with singing."
Psalm 42:8 (NKJV)
The Lord will command His lovingkindness in the daytime,
And in the night His song shall be with me—
A prayer to the God of my life.
John 3:16 (NKJV)
For God so loved the world that He gave His only begotten Son, that whoever believes in Him should not perish but have everlasting life.
Romans 8:35-39 (NKJV)
Who shall separate us from the love of Christ? Shall tribulation, or distress, or persecution, or famine, or nakedness, or peril, or sword? As it is written:
"For Your sake we are killed all day long;
We are accounted as sheep for the slaughter."
Yet in all these things we are more than conquerors through Him who loved us. For I am persuaded that neither death nor life, nor angels nor principalities nor powers, nor things present nor things to come, nor height nor depth, nor any other created thing, shall be able to separate us from the love of God which is in Christ Jesus our Lord.
Romans 5:5-8 (NKJV)
Now hope does not disappoint, because the love of God has been poured out in our hearts by the Holy Spirit who was given to us. For when we were still without strength, in due time Christ died for the ungodly. For scarcely for a righteous man will one die; yet perhaps for a good man someone would even dare to die. But God demonstrates His own love toward us, in that while we were still sinners, Christ died for us.
1 JOHN 4:10 (NKJV)
In this is love, not that we loved God, but that He loved us and sent His Son to be the propitiation for our sins.
I John 4:16 (NKJV)
And we have known and believed the love that God has for us. God is love, and he who abides in love abides in God, and God in him.
1 John 4:19 (NKJV)
We love Him because He first loved us.
Although I've read these verses many times and even memorized most of them, every time I read them again, my heart is simply overwhelmed. How is it that a God so big, so mighty, so infinite cares about me? "I don't know how He can love me, but I know He does," is my only answer. So I rest in that fact and I find strength and hope. Knowing that an almighty God loves and watches over me chases away my fears, my doubts and my worries. I hope it will do the same for you.
Holy Father, God of the Universe, Your love amazes and assures me! Keep me anchored always in the safe haven of Your love so that I may fulfill Your will for my life without fear.
By Ann Shorb
©Copyright Ann Shorb, 2012
Scripture taken from the New King James Version. Copyright © 1982 by Thomas Nelson, Inc.  Used by permission.  All rights reserved.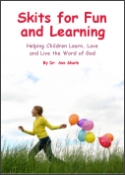 Skits for Fun and Learning
Skits for Fun and Learning is a collection of 15 puppet scripts and 5 articles on the subject of success with puppet ministries. The articles and scripts have been written by Dr. Ann Shorb and the book is available for purchase as a paperback, or as a PDF download.