PSALM 42:8 (NKJV)
The Lord will command His lovingkindness in the daytime,
And in the night His song shall be with me—
A prayer to the God of my life.
In times of worry and fear, remembering that I am a child of God and focusing on His strong and powerful love brings comfort and hope to my weary heart. When I actually quote or read specific passages from His Word, it's especially reassuring. Along with that, I find that singing about His great love keeps my fears from overwhelming me.
Although I appreciate and enjoy many of the new choruses, for me the old hymns bring a comfort that is unsurpassed. One of my favorites when I'm anxious is "Wonderful Peace."
WONDERFUL PEACE
Far away in the depths of my spirit tonight
Rolls a melody sweeter than psalm;
In celestial strains it unceasingly falls
O'er my soul like an infinite calm.
Refrain:
Peace! Peace! Wonderful peace,
Coming down from the Father above;
Sweep over my spirit forever, I pray,
In fathomless billows of love.
What a treasure I have in this wonderful peace,
Buried deep in the heart of my soul,
So secure that no power can mine it away,
While the years of eternity roll!
Refrain
I am resting tonight in this wonderful peace,
Resting sweetly in Jesus' control;
For I'm kept from all danger by night and by day,
And His glory is flooding my soul!
Refrain
And I think when I rise to that city of peace,
Where the Anchor of peace I shall see,
That one strain of the song which the ransomed will sing
In that heavenly kingdom will be:
Refrain
Ah, soul! are you here without comfort and rest,
Marching down the rough pathway of time?
Make Jesus your Friend ere the shadows grow dark;
O accept of this peace so sublime!
Refrain
–W. D. Cornell, 19th Century
If you're wrestling with fear, anxiety, doubt, or confusion, grab a hymnal or check out the hymns section on our website.
Here are just a few songs about God's love that are sure to bless you:
Start singing and you'll find your focus shifts from these sad feelings to God's wonderful love, mercy, compassion and care. Concentrate on how great these are and remember that you are not alone. Keep that song with you all day and into the night. Your burden will be lighter; your cares will seem far away. God's great love will see you through and give you strength to face each fear.
Loving Father, keep a song in my heart and guard my mind every day and every night.
By Ann Shorb
©Copyright Ann Shorb, 2012
Scripture taken from the New King James Version. Copyright © 1982 by Thomas Nelson, Inc.  Used by permission.  All rights reserved.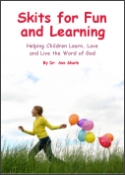 Skits for Fun and Learning
Skits for Fun and Learning is a collection of 15 puppet scripts and 5 articles on the subject of success with puppet ministries. The articles and scripts have been written by Dr. Ann Shorb and the book is available for purchase as a paperback, or as a PDF download.