Psalm 103:14
For He knoweth our frame; He remembereth that we are dust.
Wow! Wednesday was one of those days! My list of plans never got completed, the weeds in the flower bed were growing at record speed, I discovered a stack of mail that needed attention immediately, and the printer jammed and couldn't be fixed. But the real blow came when I called to follow up on a project and I got blasted with both barrels for something I didn't even do. It would have been easy to crawl in the pit and sit there feeling sorry for myself. Even easier for me would have been to fight back with hateful words and a wrong attitude, but thankfully I didn't fall prey to my flesh and do the things that would have only caused more harm. Instead I ran to my Father and asked for His help.
Lord, You know my spirit is wounded and my soul is hurting. Help me hold my angry words and speak in love. Help me confront the issues clearly and avoid blaming and slinging mud. This man is my Christian brother and I don't want there to be hurt and tension between us. I don't want to do anything to dishonor Your name and to hinder Your work.
God answered my prayer, but hours later the man's accusations still swirled in my head as I picked up my Daily Light for my evening devotional reading. Tears came to my eyes as I read the scripture passages for that day. Right there before me were words of comfort and healing that were directed to the very issue I had been shaken by earlier that day. God remembered my fragile spirit and my hurting heart, and He brought to me the very balm that I needed in that moment. His words helped me refocus and move beyond my confusion. How very kind, loving and great my God is to know what I'm made of and to remember that I am only dust, and that I need Him!
Thank You, Jesus, that although You are the creator and controller of the universe, You see and care about every detail of my life. Thank You for putting Your arms of love around me and holding me close to You just when I needed it most.
By Ann Shorb
Copyright Ann Shorb, 2007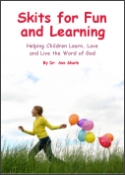 Skits for Fun and Learning
Skits for Fun and Learning is a collection of 15 puppet scripts and 5 articles on the subject of success with puppet ministries. The articles and scripts have been written by Dr. Ann Shorb and the book is available for purchase as a paperback, or as a PDF download.