ISAIAH 50:10
Who among you fears the LORD?
Who obeys the voice of His Servant?
Who walks in darkness and has no light?
Let him trust in the name of the LORD
And rely upon his God. (New King James Version)
The couple simply stood there in shock. They entrusted the building of their new home to this man and suddenly, without warning, he walked off the job. Everything had been so carefully planned and each step outlined, yet now plans were abandoned, hopes were shattered, and fear and confusion surrounded them.
Praise God, He never walks off the job! What He starts He will finish. He never runs out of energy, and His supply of resources is endless. He never discovers that He doesn't know what to do next. He is never dismayed by obstacles that our human nature throws His way. He is never discouraged, never depressed, never defeated, and He never doubts. He is always able to do exceeding abundantly above all that we ask or think for He is God.
We often live as if we can trust God for our eternal destiny but we cannot trust Him for our daily life here on earth. My friend, He is just as present here and now as He will be in eternity. The difference is that our vision is limited now and often we cannot see the future.
"Our insistence upon discerning what's up ahead is natural, but it is a hindrance to real faith. It's why God constantly encourages us to trust Him in the dark (Isaiah 50:10). True faith means resting in who God is. He has charged Himself with full responsibility for your eternal happiness, and He stands ready to take over the management of your life. He is wise and good. Trust Him with what's ahead." (From Pearls of Great Price: 366 Daily Devotional Readings, by Joni Eareckson Tada.)
Almighty God, give me give me faith to believe that You know the way ahead and that I can trust You to be there for each step of my journey.
By Ann Shorb
©Copyright Ann Shorb, 2009
Scripture taken from the New King James Version. Copyright © 1982 by Thomas Nelson, Inc.  Used by permission.  All rights reserved.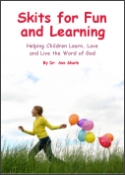 Skits for Fun and Learning
Skits for Fun and Learning is a collection of 15 puppet scripts and 5 articles on the subject of success with puppet ministries. The articles and scripts have been written by Dr. Ann Shorb and the book is available for purchase as a paperback, or as a PDF download.