Daniel 3:17-18 NKJV*
Our God whom we serve is able to deliver us from the burning fiery furnace, and He will deliver us from your hand, O king. But if not, let it be known to you, O king, that we do not serve your gods, nor will we worship the gold image which you have set up.
In the Book of Daniel, the story of Shadrach, Meshach, and Abednego vividly portrays a truth that can hold you fast in the toughest of times. These three young Jewish men worshipped and served God. Although they served King Nebuchadnezar in his court, they refused to worship his 90-foot golden image, even when they were told they would face instant death by being thrown into an intensely hot fiery furnace. Their response to these threats? A respectful statement that in essence declared, "Our God is able to deliver us from the fiery furnace, but if not we will still be faithful to Him, for He will deliver us from you. Either way, God has us!"
No doubt Shadrach, Meshach and Abednego prayed for the miracle of deliverance from the fire, but they willingly accepted the worst of circumstances because they knew they were in the hands of God. These young men had already been kidnapped, and taken from their homes and families to live and serve among a heathen people; yet they knew they were safe because God had them in His care.
What a comfort to know that God has me!
God has me in His thoughts . . . Jeremiah 29:11, For I know the thoughts that I think toward you, saith the LORD, thoughts of peace, and not of evil, to give you an expected end.
He has me in His view . . . Psalm 33:18-19, Behold, the eye of the LORD is upon them that fear Him, upon them that hope in His mercy; to deliver their soul from death, and to keep them alive in famine.
God has me in His heart . . . I John 4:10, He loved us, and sent His Son to be the propitiation for our sins.
God has me in His hands . . . John 10:29, My Father, which gave them me, is greater than all; and no man is able to pluck them out of my Father's hand.
God has me in His arms . . . Isaiah 40:11, He shall feed His flock like a shepherd: He shall gather the lambs with His arm, and carry them in His bosom, and shall gently lead those that are with young.
God has me under His wing . . . Psalm 91:4, He shall cover thee with His feathers, and under His wings shalt thou trust . . .
My friend, I encourage you to copy these verses and read them over and over again as you face adversity, persecution and trials. Find comfort in the truth that God has you in His thoughts, in His view, and in His heart. Rest in the fact that you are in His hands and arms, and you are safe come what may. Remind yourself often, "God has me!"
Sovereign Lord, thank You for the powerful promise that You have me and will be with me to deliver me from all harm according to Your perfect will.
By Ann Shorb
Copyright 2007
*Scripture taken from the New King James Version. Copyright © 1982 by Thomas Nelson, Inc. Used by permission. All rights reserved.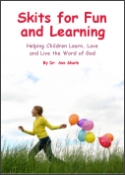 Skits for Fun and Learning
Skits for Fun and Learning is a collection of 15 puppet scripts and 5 articles on the subject of success with puppet ministries. The articles and scripts have been written by Dr. Ann Shorb and the book is available for purchase as a paperback, or as a PDF download.