PSALM 119:73
Thy hands have made me and fashioned me: give me understanding, that I may learn thy commandments.
Knock, chip, sand, smooth, paint, glue . . . It was fun watching the young people at Vacation Bible School this week as they cleverly and enthusiastically fashioned their individual race cars for the upcoming derby. No two cars were the same, not in design, shape, size, or color. Each was uniquely and proudly created by tender hands and an eager heart.
I couldn't help noticing how carefully those young hands worked with their cars and the changes that took place with each step of the process; and so, from wedges of plainness came uniquely designed and brightly colored "masterpieces."
Do you know the song written by Joel Hemphill that was so popular several years ago, "He's Still Working on Me?" I love this little song because it reminds me that God is at work in my life fashioning me to be all that He designed me . . ."He's still working on me to make me what I ought to be . . . How loving and patient He must be, He's still working on me."
It is indeed with tender love, gentle care and great concern that the Master Designer works on you and on me to shape us according to His great plan. Carefully, eagerly but patiently He works to produce vessels designed for relationship with Him and destined for service to Him.
Almighty Creator, God of the Universe, may I always be aware that You are constantly working in my life, fashioning me according to Your plan and purpose. May I be pliable in Your hands and may my life bring glory and honor to You.
By Ann Shorb
©Copyright Ann Shorb, 2008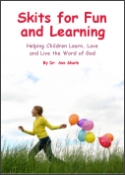 Skits for Fun and Learning
Skits for Fun and Learning is a collection of 15 puppet scripts and 5 articles on the subject of success with puppet ministries. The articles and scripts have been written by Dr. Ann Shorb and the book is available for purchase as a paperback, or as a PDF download.