JOHN 14:16 (KJV)
And I will pray the Father, and He shall give you another Comforter that He may abide with you for ever.
The music on the radio was relaxing after a busy day of noise and activity. Softly the melody of a hymn I haven't heard, or even thought about, in a long time, wafted through the air. The timeless truths of words and music penned more than a hundred years ago refreshed, comforted, and encouraged my soul as I listened . . .
REFRAIN:
Constantly abiding, Jesus is mine;
Constantly abiding, rapture divine;
He never leaves me lonely, whispers, O so kind:
"I will never leave thee," Jesus is mine.
There's a peace in my heart that the world never gave,
A peace it cannot take away;
Though the trials of life may surround like a cloud,
I've a peace that has come here to stay!
REFRAIN
All the world seemed to sing of a Savior and King,
When peace sweetly came to my heart;
Troubles all fled away and my night turned to day,
Blessed Jesus, how glorious Thou art!
REFRAIN
This treasure I have in a temple of clay,
While here on His footstool I roam;
But He's coming to take me some glorious day,
Over there to my heavenly home!
REFRAIN
What a beautiful reminder of the incredible peace that comes from knowing the Lord Jesus Christ as an ever-present friend and comforter! Both the words and music to this lovely song, "Constantly Abiding," were written by Anne S. Murphy (1877-1942) in 1908. Although it appears this was the only song she ever published, Mrs. Murphy has blessed the hearts of countless people with these simple words. I know she certainly blessed mine!
PRAYER: Heavenly Father, thank You for giving us the gift of music! Thank You especially for this song that has spoken to the hearts of thousands of people over more than a century. Let those who sing it truly know the joy and peace that only You can give.
WORDS TO PONDER: "He is always near. He knows our wants, our dangers, our feelings, and our fears. By looking to him we are enlightened and made strong out of weakness. With his wisdom for our guide, his power for our protection, his fullness for our supply, and proposing his glory as our chief end, and placing our happiness in his favour, in communion with him, and communications from him, we shall be able to "withstand in the evil day, and having done all to stand."
—John Newton in a letter to William Wilberforce
RELATED HYMNS:
By Ann Shorb
©Copyright, Ann Shorb, 2016
Scripture taken from the King James Version of The Holy Bible.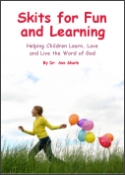 Skits for Fun and Learning
Skits for Fun and Learning is a collection of 15 puppet scripts and 5 articles on the subject of success with puppet ministries. The articles and scripts have been written by Dr. Ann Shorb and the book is available for purchase as a paperback, or as a PDF download.